The name Loch Lomond Cameron House Hotel alone speaks to the beauty of this destination hotel in West Dunbartonshire, Scotland. Surrounded by beautiful, crystal-clear water, the hotel sits on the shore of Loch Lomond, a pristine Scottish lake just under two hours west of Edinburgh. The Loch Lomond Hotel is a five-star location, desirable for weddings, conferences, business trips, golfing and honeymoons.
As part of its recent renovations, the Loch Lomond Hotel added a 29-seat private cinema, but it was a three-year odyssey interrupted by a devastating fire that would result in drastic changes to the room's design, including some creative techniques by the integrator to mitigate the noise from the projector.
Allan Staig, installation director from AVComm UK, was first contacted by hotel management back in 2017 to design and install a smaller 12-seat Dolby Atmos cinema and private theater within the hotel. By December of 2017, the company was ready to begin the installation. Unfortunately, a devastating fire destroyed the space where the theater was to be located. Almost three years later, Cameron House Hotel contacted Staig again after its fire restoration had been completed.
At this point, the scope of the project changed considerably – the space that was originally to house a 12-seat theater had been expanded to a massive 42-seat cinema that guests, corporations, and private groups could use to view new releases and existing movies.
The cinema also needed to be used as a meeting or conference room. For these reasons, AVComm UK created an entirely new design for Cameron House Hotel, working with distributor Apex-Tech UK with Alan Briggs as a point of contact for AV products and support. The final result is a 29-seat theater with ample room for the project's AV equipment needs. 

Total Tech Summit is where the integration industry elite gather. It's your chance to build rock solid industry connections to grow your firm and advance your career. We invite you to apply today for a free trip to join us in Orlando October 26-28, 2022.
Apply now!
Cameron House Hotel's original request for the 10 x 7.8-meter room was:
A proper, private cinema to show new releases or existing ones to corporate guests, private guests, or public guests.
As much seating as possible, given the space constraint, while maintaining the best viewing and listening experience.
The room must also function as a meeting space when not in use as a cinema.
Tricky Design Changes
Staig, early in the design process, decided to work with a local distributor, Apex-Tech UK, throughout the project. Apex-Tech UK not only offered the required cinema products, but it also had the extensive knowledge and service offering to support the AVComm team when needed. Staig worked directly with Apex Tech UK's Alan Briggs for most of the planning and product selection.
When Staig described the project's scale and high-profile nature, Briggs knew that Apex-Tech UK could deliver products with the quality and reliability that they were looking for. Neil Davidson, Apex-Tech UK's managing director, recommended Staig commit to the Phase Technology (PhaseTech) brand, knowing that the speakers had high reliability and excellent quality. In addition, Davidson knew MSE Audio's PhaseTech brand had high-performance in-wall speakers that could be concealed without taking up valuable space.
PhaseTech In-Walls Meet Project Needs
The entire speaker collection for the project is MSE Audio's Phase Technology for several reasons. First and foremost, since the PhaseTech product line offered high performance in-wall speakers. These would allow Staig to keep flush, smooth walls, reducing the visual impact within the theater while providing full rich sound. For such a small space, keeping everything compact and minimizing the amount of equipment on the walls was paramount.
For the sound management technology, an Acurus Muse processor and two Acurus M8 power amplifiers were selected. These came recommended by Apex Tech UK, and they matched well with the PhaseTech speakers.
Video technology included a Barco Athena projector, several components to reduce the noise from that projector (since it had to be placed in the room), and a Kaleidescape Strato player to manage the visuals and sound.
Mitigating Projector Noise in Installation
According to Staig, planning the installation was a bit tricky since there were now two designated fire walls (one in the original project) to work around. Due to this and other factors, the projector had to be installed inside the cinema. Additionally, installation on the fire walls required an additional change to the walls themselves so that the infrastructure would allow installation into a 100mm deep stud partition.
The projector itself was also placed into a custom-made hush box and was fitted with a Mistral Airflow system that included silent fans and a control center. This was a critical part of the design because the projector would be hanging above the viewers – it had to be quiet and discreet, all while maintaining proper aeration to avoid overheating.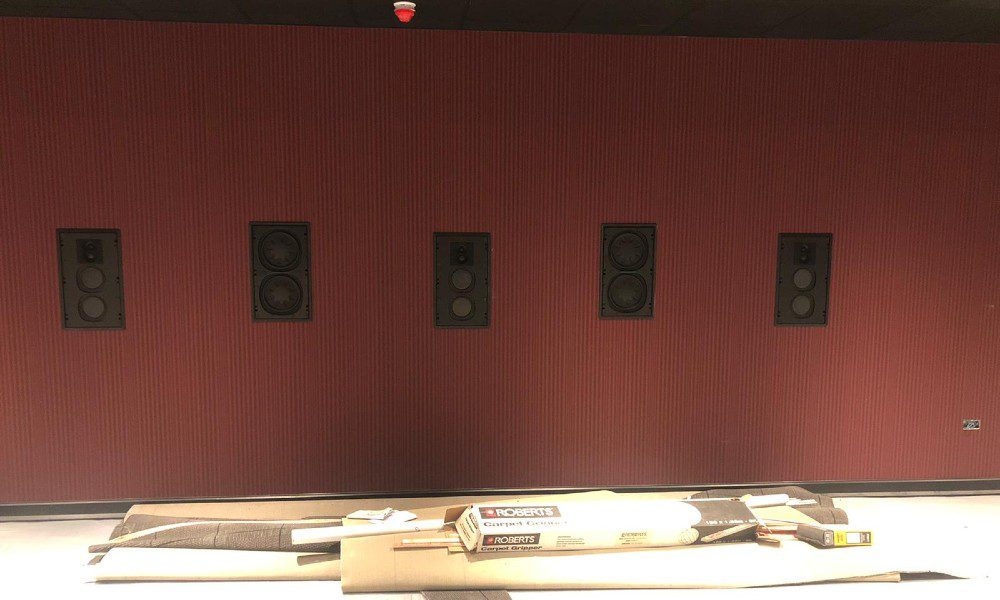 The PhaseTech high-performance three-way in-wall speakers were simple to install, and the patented extruded aluminum positive clamping and patented bass extending enclosure ensured accurate control of low-end performance and a clear reproduction of the sound into the cinema. Staig was impressed by the ease of installation for the speakers.
"The PhaseTech CI speakers sounded amazing, even before the audio tuning and calibration. The quality of the sound and the separation within the room is one of the best we have installed," says Staig. "It was very good before calibration, but that took it to the next level. Value-wise, for a high-end product, I don't think you could get a better speaker package for the cost."
He adds, "My favorite thing about [this installation] is [that] the immersion of audio and the image quality is perfect in my opinion. I have been told indirectly, by [the] staff of the hotel, that the client just loves the whole room and is very happy with it."
Full Product List
1 x Acurus Muse Processor
2 x Acurus M8 Power Amplifiers
1 x Barco Athena DCI Certified Projector
1 x Display Technologies Frontier Acoustically Transparent Screen
1 x Display Technologies HB-L Hushbox
2 x Display Technologies Mistral 200 Silent Fans
1 x Display Technologies Mistral Commander
1 x Kaleidescape Strato Player
3 x PhaseTech CI130
4 x PhaseTech CI120
4 x PhaseTech C7.3X
2 x PhaseTech IW210 In-Wall Subwoofers
1 x PhaseTech P350 Subwoofer Amplifier