Do you hear what I hear? That isn't just the title of a classic holiday song, but also the query being asked using the new Audiodo technology from Lenbrook. Indeed, just when you thought there aren't any more innovations left to be made in the headphone space, Lenbrook is rocking that notion to its core with its new PSB M4U8 MKII headphones.
The PSB M4U8's include the new Audiodo sound personalization technology, which tests the wearer's hearing using a series of ever-increasing chirp tones with responses measured in the PSB Headphone app. The app then assesses the user's hearing ability in both the left and right ear and compensates the headphones accordingly. The technology is a godsend for so many (including me) who have major differences in hearing ability between the left and right ears.
The $399 M4U (which stands for "music for you") wireless headphones also come with the company's RoomFeel voicing technology, Active Noise Cancelling (ANC), and Bluetooth AptX HD capability. The upgraded battery life lasts up to 25 hours. Other features include a hard-shell travel case, 3.5mm cable, airplane adapter and extra ear pads.
The M4U headphones were just one of the innovations Lenbrook had planned to showcase at CES 2022 back in January but the Canadian company chose not to exhibit due to the spreading COVID-19 variant peaking at the time. Other products planned to be showecased included the new DALI KATCH G2 portable speaker, NAD M33 integrated amplifier, C 399 Hybrid digital amplifier and C 700 BluOS Streaming amplifier, and the PSB Synchrony T600 tower and B600 bookshelf speakers.
PSB Synchrony Tower & Bookshelf Speakers
CES 2022 was also due to be the in-person debut of the new flagship Synchrony Series consisting of the T600 Tower Speakers ($7,999/pair MSRP), and the B600 Bookshelf Speakers ($2,499/pair MSRP). The units started shipping in September 2021.

CE Pro's Email Newsletters deliver timely news, industry-leading content, product information, and downloadable resources directly to your email inbox.
Sign Up Today!
Both models are offered in a choice of Satin Walnut Veneer and High Gloss Black finishes. The speakers were engineered at the acoustics lab at Canada's National Research Council (NRC) by a team of acoustic specialists led by renowned PSB Speakers Founder and Chief Acoustic Designer, Paul Barton.
The Synchrony T600 Premium Tower Speaker features an all-new 5-way transitional array consisting of 3 x 6.5-inch woofers and a 5.25-inch midrange driver, all with cast aluminum baskets, woven carbon fiber cones and rubber surrounds, and a 1-inch titanium dome tweeter with Ferrofluid and Neodymium magnet. The driver assembly features four elements (Faraday ring, shorted turn, longer voice coil, symmetrical magnetic drive) that all work in harmony to reduce driver distortion.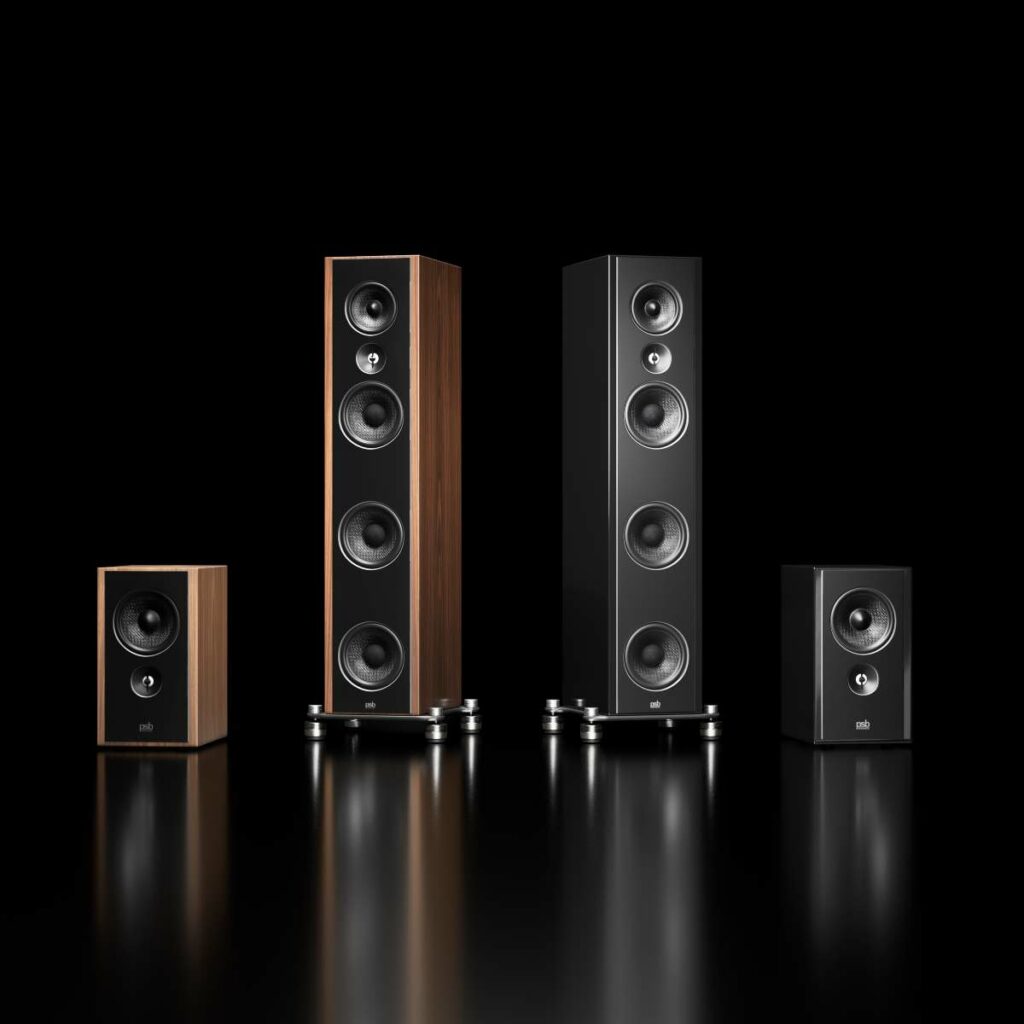 The T600s feature an acoustically inert MDF cabinet with aluminum-clad front baffles, with individually-tuned chambers and rear-firing ports for each woofer to break up in-speaker standing waves. The amplitude-perfect Linkwitz-Riley 4th order crossover network of the T600 is the most advanced crossover that PSB Speakers has ever utilized, featuring high-voltage polyfilm capacitors and oxygen-free interconnect wire.
Using the same all-new driver platform as the flagship Synchrony T600 towers, the B600 can be a complement to the towers or a standalone option. The 2-way bass reflex design features a 6.5-inch woofer with cast aluminum basket and woven carbon fibre cone, and a 1-inch titanium dome tweeter with Ferrofluid and Neodymium magnet. The light and rigid nature of woven carbon fiber cone delivers wider bandwidth — about half an octave deeper bass response over other PSB driver designs — with greater efficiency (88dB at 1m), higher power handling, and lower distortion.
DALI KATCH G2 Portable Speaker
Marshall Courier, national trainer at Lenbrook, was especially excited to discuss the new KATCH G2 portable Bluetooth speaker from DALI, which Lenbrook imports to North American importer for Denmark-based DALI.
Among the new improvements made to the KATCH G2 compared to its predecessor are contemporary colors and a new design. The speakers retails for (MSRP $499.99) and is offered in three contemporary colors: Caramel White, Iron Black and Chilly Blue.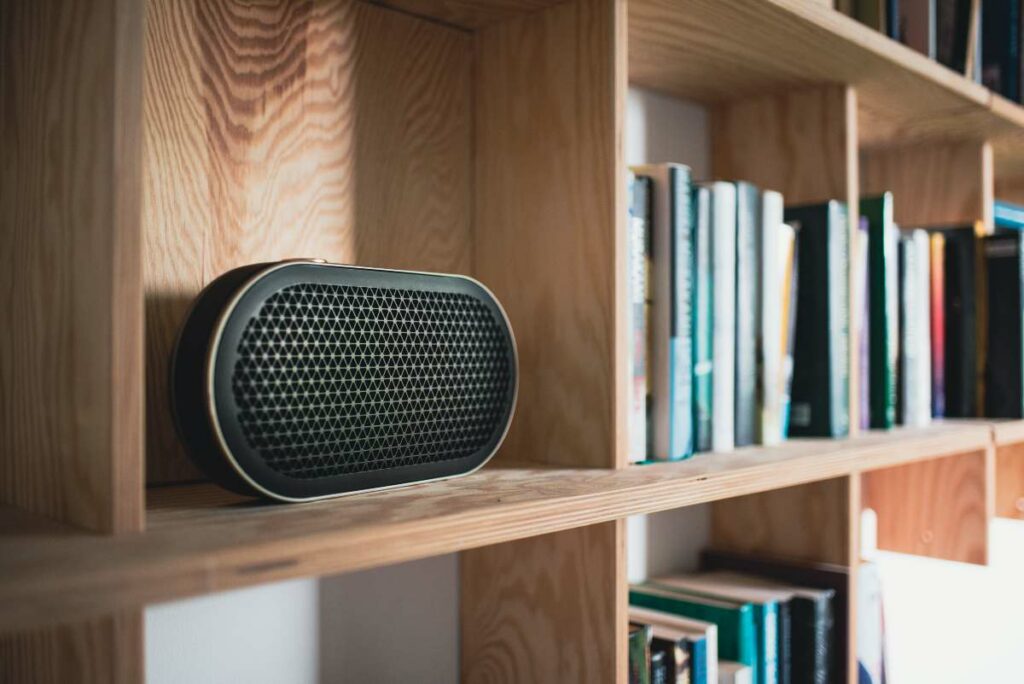 The aluminum body of the compact and portable DALI KATCH G2 has enough inner volume for its dual woofers to deliver a considerable amount of low-end punch, according to Courier. The sound from the DALI KATCH G2 is rendered by a two-way stereo speaker system with a passive membrane supporting the woofer in the otherwise closed cabinet. In contrast to the original KATCH, the DALI KATCH G2 cabinet now has an internal wall dividing it into two inner volumes, creating improved channel separation.
An omnidirectional dispersion pattern can be created placing a full set of drivers on both sides of the DALI KATCH G2 for both indoor or outdoor applications. Clear and Warm EQ settings permit tailoring the performance to personal tastes, with Warm adding to the bass presence. The KATCH G2 incorporates Bluetooth 5.0 and higher audio quality with Qualcomm aptX, aptX-HD, and AAC. The upgraded Bluetooth allows for a stronger connection with less dropouts. The devices can connect using the traditional Bluetooth method, or through using NFC (near-field connection).
The DALI KATCH G2 is equipped with an auto-sensing 3.5mm stereo mini-jack input, eliminating the need for an additional button to play music. Pressing the Bluetooth button with the mini-jack connected allows listeners to toggle between the mini-jack input and Bluetooth. Directly next to the mini-jack input is a USB charge connector and a power connector. The USB charge connector not only allows for charging on-the-go but is also able to drive a Chromecast Audio dongle or Amazon Echo for home network integration.
Another new feature is the ability to use two DALI KATCH G2 units, paired together via Bluetooth, to form a wireless dedicated left/right stereo pair. The connection uses one DALI KATCH G2 as the primary and the other DALI KATCH G2 as a secondary unit. The two channels are powered by Class D amplifiers of 25 watts each, and DSP (digital signal processor) straightens the frequency response. The DSP's built-in DAC delivers a balanced stereo signal to the amplifier stage, enabling up to 95% of the battery power to output power. The amplified audio signal is sent unfiltered to the woofer and via a simple crossover to the tweeter.
The DALI KATCH G2 features solid rounded housing, with new design elements integrating a genuine leather carrying strap color matched to the front grilles, and a golden DALI coin logo affixed to the top of the unit. The KATCH G2's also has an increased battery life by 25% from the original KATCH, enabling up to 30 hours without recharging.
Other features include a large surface area of the 21 mm light-weight soft dome, a neodymium magnet, a 3.5-inch woofer with an aluminum membrane with a soft fabric dust cap, and an ultra-slim chassis.