For all of the benefits that come with large residential installations, there are some drawbacks too. Supporting the Toronto-based integrator Gravity Tech Home Automation's ability to meet the vast objectives for an installation dubbed Fiddler's Green, the Italian audio company K-array helped the installer design several audio systems for this very large home property.
Blake Wismer, owner of Gravity Tech Home Automation, points out the home installation not only includes an outdoor audio system, whole-house AV system and home theater, but it also includes lighting, security, and newer, more in-demand amenities such as automated shades and water shut-off capabilities.
Focusing on the role K-array played in helping Gravity Tech Home Automation to deliver Fiddler Green's high performance audio systems, Wismer notes that K-array's strong background in professional audio was a major attraction.
"We didn't know much about K-array—but more on the commercial side—venues and live concerts. I was talking with one of my reps that we were doing this job for a client who was an audiophile," explains Wismer.
"We wanted to go with big, bad sound that we could fill an outdoor space and home theater without sacrificing audio quality and he [the rep] pointed us to K-array because they had entered the residential market. So, he [the rep] came over and demoed a couple of systems for us, and both me and the client fell in love with it."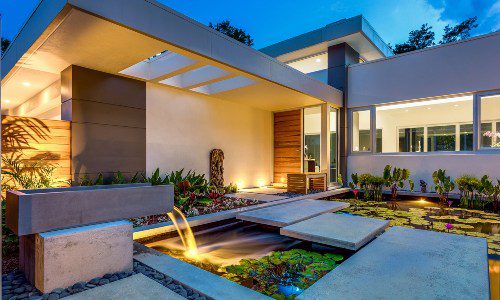 Landscape and architectural lighting create a magical and elegant ambiance for homeowners. The outdoor lighting industry has always been a phenomenal one and continues to grow in popularity. Now is the ideal time to learn more about this rapidly growing and highly profitable industry. Join our panel of esteemed lighting experts that will dive into why it's time for integrators to rethink their role in the outdoor lighting industry.
Register Now! 
K-array Products and Support Help Gravity Tech Maximize Fiddler's Green's Systems
Since taking on the product line Wismer's enthusiasm for K-array has blossomed.
Wismer stresses that through the versatility of the product line and K array's various levels of training and support there is not an installation Gravity Home Tech Automation cannot tackle.
"The product line is astounding. With all the different models that they have available there's really not much that you can't add it to. From their small 4-inch Lyzard speakers, to the big Kayman they kind of hit every niche, every market for residential, and for us as soon as we demo one to a client it's sold," he comments.
"You can't listen to it and not smile."
Addressing how K-array helped his company with the Fiddler's Green installation, Wismer says Gravity Tech Home Automation chose to use K- array for the Fiddler's Green outdoor audio system because of the size of the backyard. Wismer jokes that someone could fit a couple of mansions on the Fiddler's Green property. He comments that his company wanted to have good system imaging across the entire backyard of the property that includes a pool, cabana, lanai, a lounging area, and even the patio off the owner's master bedroom, which contains a hot tub.
In order to achieve the necessary system coverage results with the original outdoor audio system that was specified, the design called for 20 satellite speakers and four subwoofers. Through the use of the K-array product line however, Gravity Tech was able to simplify the system by installing four of K-array's Python-KP102 line array speakers, along with an selection of subwoofers for low-frequency support.
As part of the new design with the K-array KP102s, Wismer notes that his company virtually divided the backyard into zones where if you move across the zones there would not be a loss in the music as you transition across the zones.
"We are not we're not actually routing two different zones; the zones are based on the power and imaging that the K-array [system] provides to give this kind of feeling," says Wismer.
Elaborating on why imaging is a key design parameter for system performance, Wismer states that without proper imaging it can almost feel like one side of the audio is being left behind.
"For example, with the Fiddler's Green project you've got a big pool, and on either side, he has a lounge area," he explains.
"In a traditional system you, have to spread speakers around the entire property to be able to get the feeling of left and right as you're moving around, and without the audio feeling distant—that you've actually moved away from it. With the K-array setup, we actually used the Pythons—the KP102s and two of the KU212s—which are the dual 12 subwoofers [Rumble-KU212]. By implementing that we have his right side of the pool area, which acts and feels like its own dedicated zone. The left side of the pool with the lounge area, again feels like its own zone, but floating in the middle you're in the lanai, which is located in the middle of the pool you get both left and right [stereo audio]."
Summing up the new system design that Gravity Tech Home Automation was able to execute for the Fiddler's Green outdoor audio system, Wismer indicates the homeowner is getting a full audio experience no matter where they are in the backyard without a massive investment into loudspeakers.
Moving onto the Fiddler's Green home theater, Wismer says the first noticeable component of the room is its 45-feet long by 35-feet wide size.
More news from K array: K-array Steers Italian Performance & Design into U.S. Homes
Similar to the challenges of the outdoor system, Wismer says there's a possibility of a loss of cohesive audio with the home theater because the room is so large.
"Going into the home theater, especially using the line arrays, you're able to cover very large distances. What you would experience normally [in a room of this size] is a lack of quality audio as you move from the back to the front of the theater. Usually, one central spot is dedicated as the optimal spot of the theater," he says.
"With K-array, we were actually able to create an entire audio experience no matter where you sit in that theater."
In order to make the home theater that seamless, immersive audio experience Gravity Tech Home Automation installed three 18-inch subwoofers and five 12-inch subwoofers.
The use of 18-inch subwoofers is fairly unique in a home environment, but because of K-array's background in professional audio, the Italian manufacturer has years of engineering experience developing large subwoofers for critical applications. For Gravity Tech, K-array's experience engineering large subwoofers means the company could use large subwoofers without sacrificing sound quality. The passive KSC18 utilizes a single 18-inch high-excursion woofer, in a small-footprint, bass-reflex cabinet. K-array developed the subwoofer to produce high sound pressure levels (SPLs) and extended low frequencies with the ability to play down to 20Hz in residential home theater environments.
Continuing to explain the home theater, Wismer points out the room also contains a left, center, right speaker configuration across the front, as well as three side surrounds and two back surrounds. Providing the system's object-based surround audio capabilities, the theater also employs eight in-ceiling loudspeakers and a Trinnov Audio processor.
"It doesn't matter where you are in that theater, you get a true surround sound Atmos experience no matter where you sit," Wismer boasts.
One aspect of the K-array product line that that helps Gravity Tech Home Automation sell home theater, whole-house AV and outdoor audio systems is the care the Italian audio manufacturer takes to develop products that look good while blending into a range of indoor and outdoor environments.
Wismer says that the combination of the company's industrial designs, slim, room-friendly footprints, and array of color choices helps to ease the concerns of homeowners, interior designers and architects that may be skeptical of having installed AV systems in home spaces.
Additionally, he emphasizes, the company's dealer support should not be overlooked, which he also emphasizes by explaining that through K-array's performance, looks and support it is providing dealers with all of the tools necessary to ensure their success.
"K-array provides awesome support. They are never too far away to get a hold of, and they are always willing to sit down and help design a system with you for the attributes you require, whether it's a theater and outdoor system, or even just a two channel [system] and another media room or dining room," Wismer stresses.
"I've never had one client that is unimpressed with the audio quality they have received from their speakers. And they want to help you all the way through from the beginning to the end. It really shows that they take pride in their products, as opposed to other products out there where you buy the speaker and you are kind of left to your own devices."
If you enjoyed this article and want to receive more valuable industry content like this, click here to sign up for our digital newsletters!