Putting a different spin on the normally no-nonsense affair of a new product press event, the global electronics company Hisense used a pair of comedians to help introduce the Hisense 2021 product line.
Announcing a total of five new product lines: the U6G, the U7G, the U8G, the U800GR and the U9DG series of televisions, the company says its new products feature technologies such as Dual-Cell, Quantum Dot, 8K resolutions and Dolby Vision HDR. 
"In 2020, Hisense achieved a significant milestone in having the largest increase in LCD TV market share in North America. We were also in the top 5 TV brands and the fastest growing among the top five TV brands by units in North America," states David Gold, president of Hisense USA.
"The company's continued growth and rapid rise in rankings is a testament to our success in the U.S. We're continuing to build on our high-performing and high-quality products to bring even more options to the market in 2021 for consumers to have a premium viewing experience."
Here is a closer look at the Hisense 2021 line of televisions: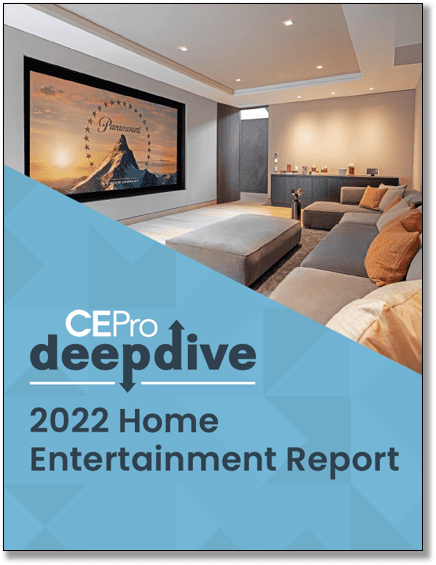 The home entertainment category is especially susceptible to the supply chain crisis because there are so many individual components required. Despite that ongoing problem, the once-forgotten "home theater" category continued its strong comeback in 2021 likely driven by the ongoing house-bound public due to the COVID-19 pandemic.
Download your copy today!
Hisense's 2021 Line of TVs
Hisense 2021 U9DG Series 4K ULED XD TVs with Dual-Cell Technology
Serving has the flagship of the Hisense 2021 product line, the U9DG incorporates the company's Dual-Cell technology. According to Hisense, this technology layers a luminance control panel behind a 4K panel to help better control grayscale and color more accurately.
Hisense says the televisions incorporate more than 2 million dimming zones to help the TVs produce a static contrast ratio of 150,000:1 and a dynamic contrast ratio of 2,000,000:1.
The TVs offer Quantum Dot technology, as well as Dolby Vision IQ, Ultra Speed HDMI, compatibility with HDR10+, HDR10 and HLG, and other formats, including IMAX Enhanced, and voice control options such as Google Assistant via the Android TV operating system.
U800GR Series 8K Roku TV
Pointing out that it is a member of the 8K Association, Hisense states that its U800GR series of products delivers more than 33 million pixels and four times the clarity of 4K images.
The U800GR Series of Roku TVs feature ULED Premium Technology, Quantum Dot technology, along with 120Hz panels, 180 local dimming zones, and the TVs produce up to 1,000 nits of brightness.
Roku also notes the series' 8K Upscaler analyzes images on a frame-by-frame basis to automatically adjust the pixels to help ensure the most realistic picture.
Additionally, the U800GR series incorporates the Roku OS operating system, which provides access to more than 250,000 movies, as well as options such as Apple AirPlay2, and voice control options through Amazon Alexa, Google Assistant or Apple Siri via HomeKit.
U8G Series
With technologies such as Quantum Dot, Dolby Vision IQ, and Ultra Speed HDMI the U8G Series from Hisense delivers contrast levels greater than 10,000:1 and brightness levels up to 1,500 nits.
The TVs incorporate up to 360 FALD zones, IMAX Enhanced, VRR FreeSync Premium, and HDR10+ and HDR10 compatibility. On the audio side, the TVs offer Dolby Atmos, eARC and WiSA ready options.
Available in a choice of 55- and 65-inch screen sizes, the TVs also utilize the Android TV operating system.
U7G Series
Hisense says that gamers will appreciate the U7G series. Available in a choice of 55-, 65- and 75-inch screen sizes, the U7G from the Hisense 2021 product line provides gamers features such as Game Mode Pro and Ultra High-Speed HDMI.
Explaining the Game Mode Pro, Hisense states the technology recognizes gaming sequences and automatically optimizes the TVs' settings for an improved gaming experience. The TVs also offer Automatic Low-Latency Mode (ALLM), FreeSync Premium and VRR to help provide smooth images during video game play by minimizing input lag, screen jitter and frame tearing.
Moreover, the line of products also deliver 120Hz refresh rates, up to 120 FALD zones, and up t 1,000 nits of brightness.
Like the other Hisense 2021 products, the U7G's other features include IMAX Enhanced, Filmmaker Mode, Dolby Vision IQ, WiSA ready options, Dolby Atmos and HDR10+, HDR10 and HLG HDR compatibility.
U6G Series
Rounding out the Hisense 2021 new television product announcements is the U6G Series.
Highlighting the list of features built into the U6G is the Android TV operating system, ULED technology and Quantum Dot. The line of products come in a choice in 50-, 55-, 65- and 75-inch screen sizes, and these televisions also offer HDR10, HDR10+ and HLG HDR compatibility; Dolby Atmos, up to 60 FALD zones, and up to 600 nits of brightness.