The wireless noise-cancellation headphones market has absolutely exploded in recent years, with more reputable companies throwing their hats into the ring than ever before. While this is undoubtedly a good thing for consumers, it can cause confusion for integrators and AV showroom owners who can only reasonably stock a few pairs of headphones.
Is there a Goldilocks solution out there that provides both excellent sound quality and highly capable noise cancellation? It's a tall task, but longtime audio manufacturer PSB's latest update to its M4U 8 MKII headphones makes it a worthy candidate.
PSB M4U 8 MKII Headphones Features & Setup
Inside the box, customers will find the M4U8 MKII in matte black, alongside a very sturdy faux-leather carrying case that keeps everything packed up conveniently for use while traveling. Within that carrying case is a USB-A to USB-C charging cable, a quarter-inch adapter, an airplane adapter, and a 3.5mm headphone cable for wired listening.
The MKII version of the headphones carries an MSRP of $399, meaning the product is directly competing with similar offers from brands like Sony, Apple and Bose.
Setup could not be easier, as all users need to do is download the PSB Speakers App (available on Android and iOS), turn on Bluetooth on their preferred device, and flick on the headphone's power button. After testing the headphones on a Samsung smartphone, Apple iPad, M1 Macbook Air, and a custom-built gaming PC I never encountered any Bluetooth connection errors or snags.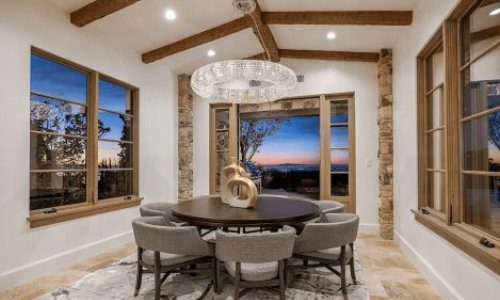 As a custom integrator, lighting is in demand. Effective communication, education and showcasing the value proposition of LED light fixtures in conjunction with integrative control systems are the keys to overcoming challenges and closing sales in this specialized market. Join us as we discuss the future of digital lighting and control with David Warfel from Light Can Help You and Patrick Laidlaw and Mark Moody from AiSPIRE.
Register Now! 
The most notable feature of the PSB M4U 8 MKII is the inclusion of Audiodo Personal Sound, which is designed to mold the listening experience to the hearing capabilities of the headphone wearer. In essence, the software is meant to compensate for hearing loss or hearing differences by testing the wearer's ability to hear both low- and high-frequency beeps and then tuning the sound output of the headphones to match the person's profile.
PSB's easy-to-use PSB Speakers App allows users to run the Audiodo Personal Sound function, as well as customize the listening experience via standby timers and volume adjustments.
The headphones also include a full array of active-noise cancellation (ANC) microphones designed to cut out background noise and allow for an uninterrupted listening experience. These mics are spaced evenly around both the left and right earcups and need to remain unobstructed to work properly.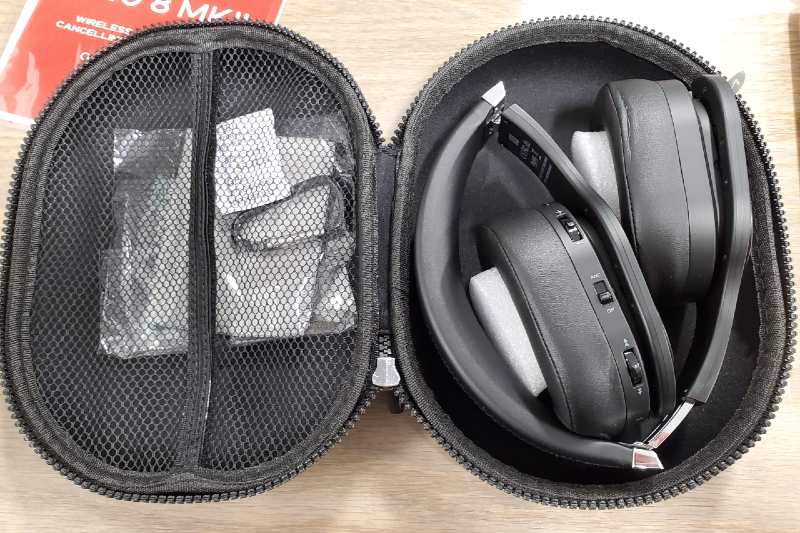 Beyond PSB's inclusion of ANC and some novel software, the M4KU 8 MKII's sport a beefy battery capable of 25 hours of wireless playback with noise cancellation turned off, as well as a USB Type C connection and a physical 3.5mm headphone jack that can be used while charging.
Like many of its competitors, PSB has opted to futureproof the product by including aptX HD Bluetooth support, so users with certain phones from brands like Asus, Motorola, and LG may be able to take advantage of this option. Overall, standard Bluetooth connections happen smoothly and without the need to constantly fiddle with buttons on the side of the earcup.
PSB M4U 8 MKII Headphones Performance & Conclusions
It's hard not to be impressed with the package PSB has put together with the MKII version of these headphones. The M4U 8 MKII headphones are built with quality materials that feel both sturdy and premium. The company has also clearly listened to consumer feedback regarding the first version and has seriously upped the value quotient on display with clever features like Audiodo Personal Sound and aptX HD Bluetooth support.
The MKII version also addresses the regularly reported battery life issues that customers complained about in the first version. Throughout my over 1,000 hours of testing, I regularly reported 25-30 hours of listening without ANC being turned on. With noise cancellation active, I averaged closer to 15 hours, but that's more than enough for all but the most grueling of flights.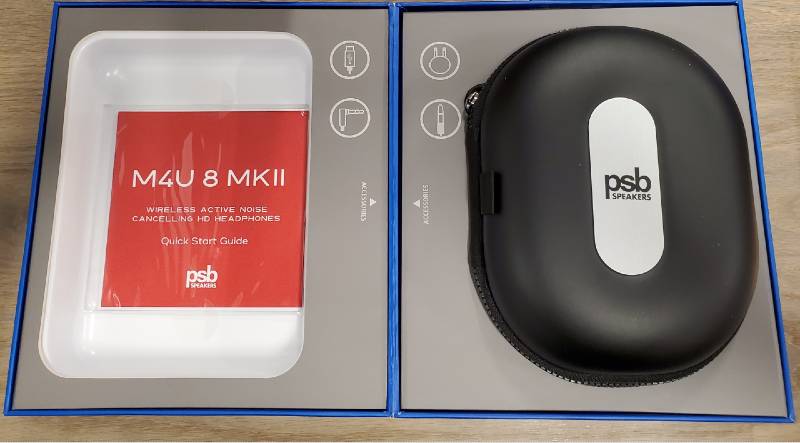 In terms of active-noise cancellation performance, PSB has done a good job of effectively handing lower frequency noises like the drone of airplane engines, the clacks of light rail travel, and any ambient voices.
The area where they fall slightly short of other category competitors is when dealing with higher frequency sounds like dogs barking, train whistles, or people yelling. While the ANC quality never quite reaches the level of brands like Bose or Sony, the performance offered by the MKII's is solid.
That said, those looking for a pair of wireless noise-canceling headphones with stunning midrange and bass responses can end their search.
The sound quality of the headphones is also excellent for the price point and rivals the audio quality of offerings that cost several hundred dollars more.
They tend to lean a little bright when presented without EQ adjustments.
For example, on certain tracks like progressive rock band Porcupine Tree's "Harridan," the headphones' tendency to lean bright is very noticeable with drummer Gavin Harrison's hi-hats piercing through the thick, sludgy bassline that persists throughout the song.
While testing the headphones using a variety of genres, I found them perfectly suited for styles like jazz or classical where clarity and a high dynamic range are desired.
Similarly, progressive rock and fusion were accurately represented, especially on tracks that feature a heavy mid and bass presence like "Coven" by Snarky Puppy. On songs like this, the MKII shows off the ability to simultaneously output the brightness of a concert piano while also serving up a warm midrange filled with violas, cello, and trumpet.
See all of our recent product reviews here
While I don't have much to criticize when it comes to audio performance, I do want to mention one oddity I noticed while listening late at night.
It seems as though when connected via Bluetooth, the headphones often emit a low-volume ringing sound when no music is playing. This isn't a huge deal and isn't noticeable during regular use, but when using these solely for noise-cancellation purposes it can get annoying.
One thing I'd really like to applaud PSB for is avoiding the touch capacitive and gesture-driven buttons that have become all the rage on similar products like the Sony WH-1000XM4. I've owned a pair of the previous-generation Sony headphones for four years now and while they are still the kings of active-noise cancellation, the myriad times I've inadvertently skipped a track or decreased the volume has always left me frustrated.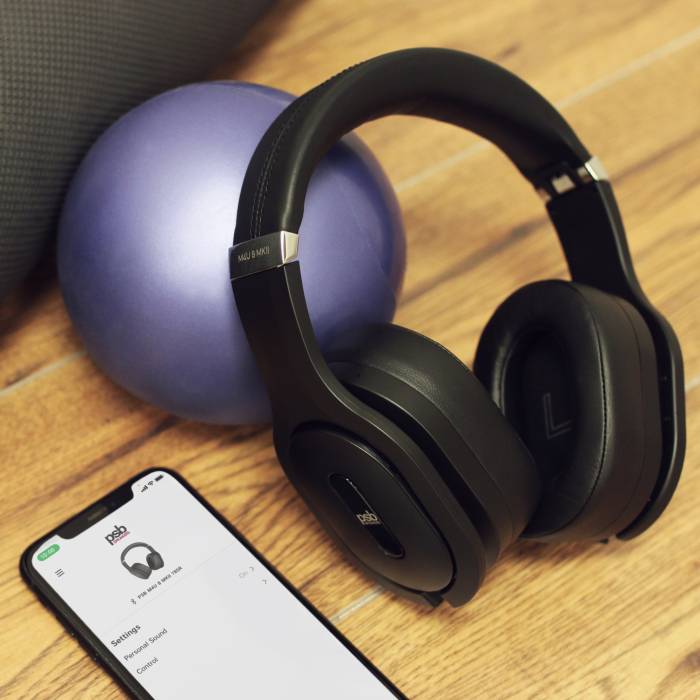 In the case of the MKII's, PSB opted to keep the physical plastic sliders found on the original model; one for volume control, one for powering the headphones on/off and ANC option, and one for track skipping and fast-forwarding. These sliders are much easier to use than any touch-capacitive setup, and I hope this becomes the norm for wireless headphones in the future.
If AV showroom owners and integrators are looking to stock only a few headphone options, the PSB M4U 8 MKII's are an excellent choice as they deftly fill the needs of customers in the wireless headphone market and the active-noise cancelling market simultaneously. While they don't quite match the brilliant ANC performance of some competitors, what they do offer is an excellent all-in-one package perfect for customers looking for a midrange pair of headphones and a good deal.
CE Pro Verdict
Pros:
Excellent audio imaging quality and dynamic range for the price
Good build quality with high-end plastics and faux-leather earcups and headband
Extremely long battery life both when listening with and without the active-noise cancellation feature
Cons:
Active-noise cancellation quality isn't quite on par with other offerings in the price range
Can be prone to a distracting low-volume ringing sound when ANC is on while music is not playing
PSB M4U 8 MKII Headphones at a Glance
High-performance wireless noise cancelling headphones
PSB's award-winning "true-to-nature" sound signature
All-digital adaptive noise cancelling (ANC) for pure noise-free listening
Custom audio calibration with Personal Sound by Audiodo™
New PSB headphone app for more control and personalization
Up to 25 hours of battery life for all-day wireless playback
Powerful rechargeable battery with a USB C charger
Compatible with iOS and Android devices
If you enjoyed this article and want to receive more valuable industry content like this, click here to sign up for our digital newsletters!