When it comes to home audio, countries like the United States, England and Canada provide the world with fabled brands and storied histories. Quietly, there's a country located in the North Atlantic that rivals these audio superpowers: Denmark.
This small Scandinavian country is home to a number of top manufacturers in the consumer and professional audio markets and one of its best-kept secrets is the Nørager-based company DALI (Danish Audio Loudspeaker Industries).
DALI has been around for nearly 40 years steadily growing as a global audio company, and today it offers a broad range of in-room, architectural, and headphone products. Adding to its product line, DALI's latest speaker aims to redefine the high-performance loudspeaker category.
DALI's new $110,000 Kore loudspeaker represents years of research and development (R&D) and a no-holds-barred approach to delivering the highest levels of performance without the extraneous price tag that often accompanies high-end audiophile products.
DALI Kore Marks a Return to Denmark for the Company
Over the past couple of years while the world was consumed by the threat of COVID-19, DALI used this period to reassess its standing in the home audio market and its future objectives. Spurred on by the potential the pandemic represented, DALI and its CEO Lars Worre decided that the best course of action for the company would be to bring more of its manufacturing back to Denmark.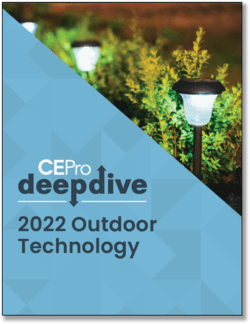 The 2023 CE Pro Outdoor Technology Deep Dive reveals unique set of impediments, including explaining pricing and interacting with outdoor-centric trades.
Get your copy now to take a "deep dive" into the trends and challenges of outdoor technology.
Download the report now!
One of the first projects the company would undertake as part of its goal of utilizing Danish materials and manufacturing would be the development of its Kore loudspeaker, which will serve as its new flagship product.
Putting years into the development of this flagship product Worre notes the speaker and the technologies employed for the performance of the Kore represent the company and its principles, which include performance, style, and value on a global stage.
"Our story should tell itself," he says.
"Lies are told about prices and manufacturing. It's silly to say something is too inexpensive … The Kore product was one project, but it was a big one. It took about 20,000 hours to complete."
As part of its development process for the Kore and to support its move to bring its internal processes home, DALI entered into an investment agreement with Hudevad Furniture, which was founded in 1967 by Erik Thode Jørgensen, and run today by Erik's son Kaare Thode Jørgensen.
In addition to its partnership with Hudevad furniture, DALI also increased its emphasis on using local parts and other materials.
Pairing its commitment to utilizing Danish resources, the company reinforced its efforts to bring its product development and manufacturing back to Denmark by reemphasizing the DALI eight design principles:
Individually crafted
Low Loss
Holographic sound imaging
Time Coherence
Wide Dispersion
Clarity
Low Resonance Cabinet
Amplifier Optimized
Providing his perspective on Wore's comments concerning the balance of performance and value, and the company's objective of engineering a high performing speaker at a price point that's significantly less than typical audiophile products, Krestian Pedersen, head of product management for DALI, points out DALI is doubling down on its design principles, which includes the development of its top-of-the-line Kore loudspeaker.
"It is something that sounds like a DALI speaker, its sound is unconstrained," he says referring to the Kore product. 
"It's not just an engineering tour de force, it is our future. By taking it [development and manufacturing] in-house, it not only brings sourcing in-house, but it brings skills in-house. Kore is our initial product, and we've never been shy about it, we needed a flagship, statement product."
Outlining the product, DALI stresses Kore utilizes the Hudevad Furniture factory by employing a unique assembly technique to manufacture the enclosure shell. That shell is then affixed to a 30mm flat, birch laminate front panel. From there the company continues, each driver is then rear-loaded into separate chambers that offer separate air volumes that each utilize their own dual-flare reflex port design.
Supporting the enclosure is a concrete-resin compound plinth that's designed to hold the speaker's 352-pound weight (160kg). This plinth also houses the speaker's crossover components. Needing a component that matched the strength of the plinth, DALI designed an aluminum midrange/tweeter housing that features multiple molded silicon-mass dampeners to ensure the housing is mechanically inert.
Explaining the drivers, the Kore enclosure houses an array of proprietary DALI technologies. Reproducing high frequencies is DALI's EVO-K Hybrid Tweeter system. The EVO-K employs a DALI-made 35mm dome tweeter and a high-sensitivity ribbon element. The multi-driver array also includes twin differentially filtered 11.5-inch woofers and a 7-inch midrange driver.
Kristiansen emphasizes the Kore's five drivers underscore DALI's commitment to bringing its development and manufacturing back to Denmark.
"Each DALI Kore driver was developed from the ground up and incorporates significant innovations that are not only new to DALI, but are found only rarely throughout the world of electro-acoustic design," says Kristiansen.
DALI Kore Features SMC Gen 2 Technologies
Arguably, one of the biggest driver breakthroughs the DALI engineering team has made over the years has flown quietly under the radar since its introduction back in 2012.
DALI's Soft Magnetic Compound (SMC) made its debut a decade ago with the launch of the company's EPICON line of products. DALI explains SMC works by suppressing some of the fundamental distortion and signal loss associated with conventional driver motor systems.
With the rollout of the Kore DALI announced its new SMC Gen-2 technology that is said to reduce motor system non-linearities and signal loss. SMC Gen-2 is included in the Kore's midrange driver and woofers. Moreover, as part of its driver development for the Kore, DALI has launched its Balanced Drive SMC technology.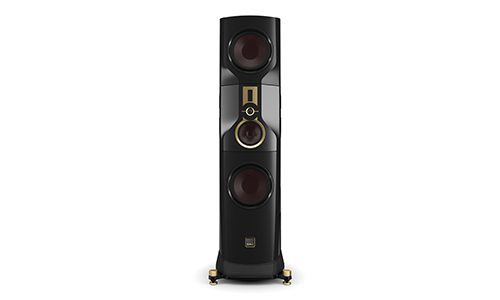 The Danish company admits that balanced drive technologies have been around since the 1970s and the original patent expired years ago.
Adopting the concept for the Kore, the company has implemented a modern design that features balanced drive concepts via a "twin-voice coil architecture."
The benefit of the Balanced Drive SMC drivers the company points out is that it reduces harmonic distortion and compression at the heart of electro-acoustic transducers.
Controlling DALI's proprietary drivers, the speaker features the debut of the company's SMC-KORE inductors in the crossover network.
DALI states it uses its SMC technologies for the inductor's core material and through the use of SMC current distortion is lowered by as much as 12dB compared to traditional iron-powder core inductors.
The other benefit of SMC according to DALI, is when used for the inductors it also lowers DC resistance, while providing shorter signal paths to offer less vulnerability to crosstalk.
Circling back to the cabinet, the enclosure, which is made of multiple layers of curved wood laminate houses the company's state-of-the-art drivers and latest crossover network design. Externally, the Kore's enclosure features a gloss lacquered, Ammara Ebony veneer and a contrasting textured finish that is inspired by luxury furniture designs.
More news from DALI: DALI Fortifies the Unrivaled Phantom Series with 4 New Models
DALI specifies the 4-ohm speaker to produce a frequency response of 26Hz to 34kHz, and it adds the speaker is 88dB sensitive.
Summarizing the company's approach to the design and performance of the new flagship loudspeaker Pedersen boasts the company's goal was to develop a loudspeaker that complements any system in any home environment without taking away from a joyful musical experience.
"We do not want to be the judge of your equipment," Pedersen admits.
"We don't want to be the judge of your musical tastes either."