For Davie, Fla.-based video wall manufacturer Just Video Walls, the adage, "by integrators, for integrators," can sum up how they came to be serve the custom integration industry. Find Just Video Walls' microLED Spec & Custom Series solutions inside and outside the Colorado Convention Center at booth #3015 and Destination Outdoors during CEDIA Expo 2023 in Denver.
"We're born out of what we feel is a necessity," says Just Video Walls Founder & CEO Ryan Lampel, who brings three decades of tenure as an integrator to the company.
He says the integration firm's clientele included commercial and luxury residential market end users, and suddenly there was a pressing need for video walls on those projects. When the company began researching the category, however, Lampel says they encountered some perplexing results.
"We started pricing out various options and found ourselves not only having a really hard time finding information about what we were looking at, but having a hard time pulling together the logic when we should use which technology and why," he explains to CE Pro.
"So we were very confused by the pricing, the lack of consistency in the category and lack of information in general. We were just hungry to try and figure out, OK, this just doesn't seem like it should be this hard," adds Lampel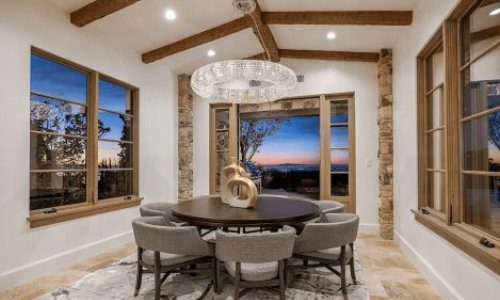 As a custom integrator, lighting is in demand. Effective communication, education and showcasing the value proposition of LED light fixtures in conjunction with integrative control systems are the keys to overcoming challenges and closing sales in this specialized market. Join us as we discuss the future of digital lighting and control with David Warfel from Light Can Help You and Patrick Laidlaw and Mark Moody from AiSPIRE.
Register Now! 
"Pricing was all over the map and it took forever to get anything back, so we couldn't even quote a project."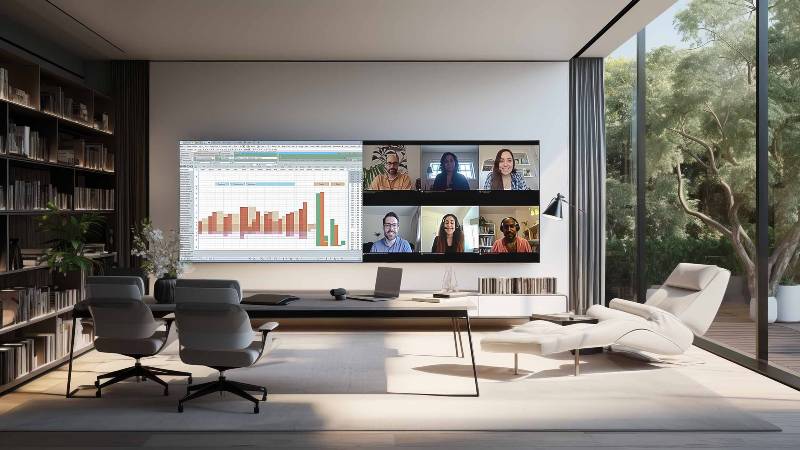 Just Video Walls Eager to Share Background Story at CEDIA Expo
For Lampel and Just Video Walls Co-founder Angel Rodriguez, that increasingly common problem turned into a huge opportunity – figuratively and literally. At CEDIA Expo 2023 in Denver, attendees can get a closeup look at the company's solutions, which it will highlight inside the convention center at booth #3015 and in the Destination Outdoors area (where it is participating with Coastal Source and Draper).
The due diligence process preceding Just Video Walls' launch about two years ago, included OEM talks with U.S. manufacturers, exploring commercial-grade options by attending InfoComm shows and more. Along the way, they navigated through those inconsistencies in cost, performance and quality, and made the decision to create what it deems to be a much more integrator-friendly solution.
"We learned a lot, and here we are," Lampel adds with a chuckle. "We felt the pain in what we and a lot of other integrators were doing. A lot of dealers take the path of least resistance, and without a company like ours they're going to go with what they know."
Rodriguez recalls a poor experience in the ordering and delivery process on its first video wall project, from a U.S.-based provider, before the Just Video Walls launch.
"We asked for a specific video wall for this project. We just received some crates, without any identification, without any instructions – just with parts and pieces, no label – nothing," says Rodriguez, who came to the U.S. just about a decade ago from Venezuela, where he had an electronic engineering background.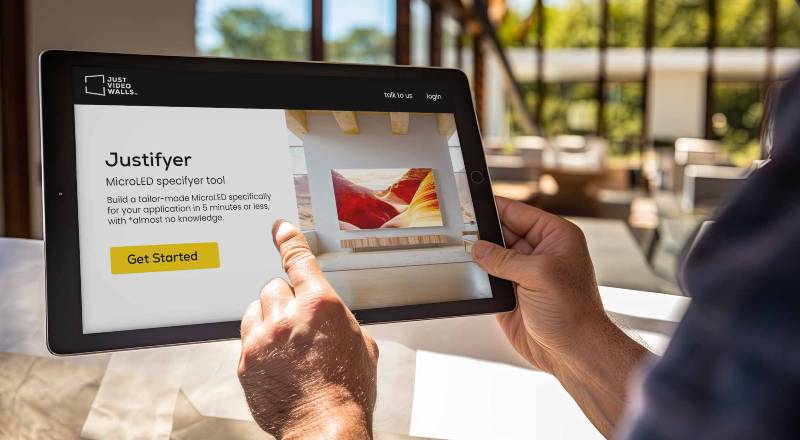 Skyler Meek serves as VP of Marketing, having industry stints that included Screen Innovations. VP of Sales Jim Koenig brings two decades of control and automation experience, along with all the interconnected sub-systems, having worked for Nortek, Savant, and RTI.. CFO Neil Eisenberg was brought in with corporate experience from outside the industry.
"After hearing the stories and doing the research, [the integrators I talked to] echoed the pain that Ryan and Angel talked about," Koenig says, "and from a sales perspective I was looking at the industry and saying, what's missing?"
Koenig reports that talks with dealers and manufacturer's reps in which he emphasizes the company's impressive amount of integrator experience, the story resonates.
"The 'by-integrator-for-integrator' message is really where my head's at – other companies have brought their policies and procedures from the corporate world, not how integrators operate," comments Koenig. "We're just doing what's right for our customers, and that's what they respect."
Not only that, but when he has ideas percolating, Koenig brings them to Lampel and Rodriguez for a thumbs up or down.
"They're our ultimate customers," he notes. "We want to be integrator-focused, integrator-centric. We're not a broadcast studio, virtual reality, pro AV type of company trying to come down into the CEDIA space – we are CEDIA. We've all been in this thing 20-30 years, we are what CEDIA's focused on."
Just Video Walls Helps Integrators Understand microLED Specs & 'Microverse'
The company has a half-dozen core beliefs that drive its mission in the custom integration channel, as espoused on its website and what it plans to hammer home in its CEDIA Expo 2023 conversations with integrators:
We are a people who love the CI industry
Who come from decades of system design & installation experience
We are not interested in just selling you a wall
We exist to make the CI dealer successful in microLED
We focus solely on one category and the CI dealer channel
We believe in unparalleled support and education.
Just Add Video's products fall into two buckets: spec and custom. As integrators can guess, the spec line consists of pre-configured sizes, while the custom offering depends on the job and application, tailored to meet clients' specific needs or requests.
The company is innovating for what it refers to when considering all the possibilities for microLEDs: the "Microverse," and naturally it envisions the technology as the future of displays, front and center.
For design and installation flexibility, Just Video Walls boasts 50+ Spec configurations for indoor and outdoor use, in aspect rations of 16:9, 2.40:1 and 24:9. Spec Indoor sizes range from 4×4 to 9×9 panels that produce microLED walls of 108 to 238 diagonal inches, available in full 4K and other resolutions.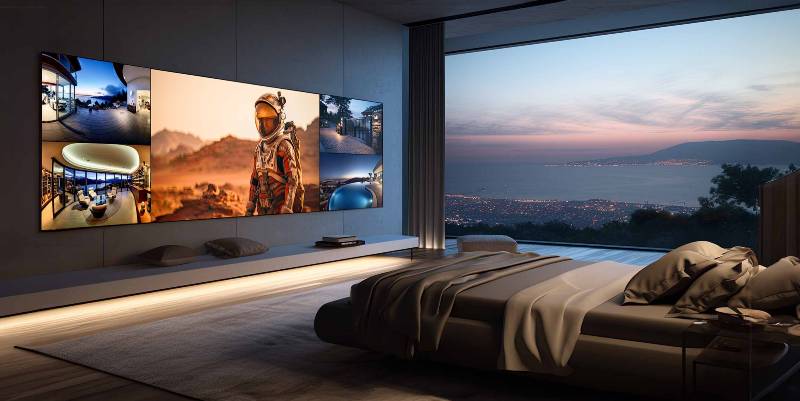 The varying aspect ratios and configurations allow for plenty of installation creativity when it comes to setup and support for single-view content like movies and TV shows but also multi-view watching, which is popular with sports fans who can follow several games at once.
One major point that the company wants to stress about the category and microLED performance for the client is greater education on pixel pitch, which measures how far apart individual diodes are, and its relationship to viewing distance, notes Meek.
"A lot of these [microLEDs on the market] have arbitrary interpretations to them – for example, pixel pitch," he says. "When Jim and I were figuring out what is the right pixel pitch for an integrator to specify for a product, well there was five different opinions from five different manufacturers out there.
"We just looked at it as, if we're confused by this imagine how the dealer feels, and nobody's serving them in that way. They're all having the same conversations, which is what is this technology, here's the spec," Meek adds.
Of course, integrators coming from the commercial world understand how viewing distance from the video wall plus other variables influence how tight pixel pitch (given in millimeters) should be.
But residential dealers are still learning and could use better training and education on it; for instance, an outdoor microLED wall typically uses a wider pixel pitch because people are usually viewing it from farther away then, say, in their media room – particularly for a resimercial application like retail or car dealership signage job.
At launch, Just Video Walls has five standard pixel pitch options and can deliver many others. The company is happy to assist integrators with system design specs.
"Let me talk about demos, because we feel this is critical. At the backside of our booth we're going to have a demo wall, and we strongly believe that anyone who shows this product will be successful and sell more," Koenig adds of the dealer sales & marketing support.
"And here's the thing – it doesn't have to be 1080p or 4K," Lampel points out. "There's a lot of other options that we have that can make beautiful images on the wall, and that's one of our big education pieces."
Oh, and one more reason to chat with Just Video Walls (booth #3015 and Destination Outdoors) at CEDIA Expo 2023? The first dealer to sell $1 million worth of microLEDs will get to drive a Porsche 911 for a year leased on the house by Just Video Walls; plus anyone else who hits the milestone by March 31, 2024, will earn a new Ford work van.
If you enjoyed this article and want to receive more valuable industry content like this, click here to sign up for our digital newsletters!