The luxury audio brand Bang & Olufsen has announced the opening of its first smart home retail space in the world, located in the design district of Boston. The new so-called "Beohome Experience Store" provides an interactive, immersive showcase for Bang & Olufsen's products, including its range of custom installation (CI) solutions.
Designed as part of a retail store, the Beohome Experience Store offers a guided tour around an aspirational home environment, with Bang & Olufsen products integrated seamlessly alongside industry-leading automation and smart home technology. This retail concept will give customers and installers a true sense of living with Bang & Olufsen.
"The launch of our first Beohome Experience Store is an exciting step for us and our customers. We will now be able to showcase the Bang & Olufsen experience and how our products integrate seamlessly into people's homes and lives. We hope this will be the first of many Beohome Experience Stores to be unveiled with the support of our many fantastic partners," says Kristian Teär, CEO of Bang & Olufsen.
"Boston was a natural fit, being a progressive city with a thriving design community that means we are in good company."
BeoHome Virtual Tour Experience
Thoughtfully integrated as part of a retail store, visitors will ring a doorbell to gain access to the Beohome Experience Store. The opaque glass in the door will turn crystal clear and they will be invited in. Pre-recorded audio will then guide them around a carefully curated space, gently instructing how it is possible to control an entire home with a few simple gestures or voice commands.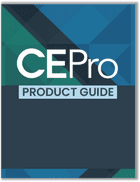 CE Pro's 2022 Product Guide showcases some of the latest and innovative solutions from manufacturers serving the custom electronics industry in a cross-section of categories.
Download the guide now!
Covering over 4,000 square feet, the Beohome Experience Store includes a dining room, living room, kitchen, bedroom, bathroom, and home theater, all fully functioning and furnished. The Molteni furnishing has been undertaken by Casa Design, which has a rich design history that strongly complements Bang & Olufsen's industrial designs.
Bang & Olufsen's 88-inch Beovision Harmony statement television forms the centerpiece of the home theater room, combining with the Beolab 90 flagship loudspeakers for a state-of-the-art cinematic experience.
Reflecting Bang & Olufsen's commitment to longevity and to ensuring customers can enjoy products for multiple generations, the Beohome Experience Store showcases a combination of products from the company's past, fully integrated with the current product portfolio. For example, visitors will be able to select a record to spin on a vintage Beogram 7000 turntable, with the audio playing through a modern Beosound Shape speaker system.
"In 2020 we celebrated Bang & Olufsen's 95th birthday, and the love that people have had for our products since the company's creation in 1925 in northwest Denmark," notes Teär.
"People actively want Bang & Olufsen products in their lives because they are timeless, and this is what drives us to push the boundaries of design, craftsmanship, and sound."
A conference room is provided within the Beohome Experience Store for industry partners to discuss solutions. It is also intended for the Beohome Experience Store to be utilized as an event space, for collaborations with Bang & Olufsen industry partners and for media events.
Bang & Olufsen's Beohome Experience Store in Boston is now open for business. The Beohome Experience Store is accessible to any visitors at the store, although private viewings can be arranged by appointment either in store or online. For the foreseeable future, all Covid-19 guidelines will be observed.
Other Partners involved in the B&O BeoHome Smart Home Experience include:
B&O adds that its new BeoHome Smart Home Experience is located at 460 Harrison Ave in Boston.