Bill Shea, a collector and car enthusiast from Massachusetts, recently developed the "88 MPH Time Machine Experience." Based on "Back to the Future" (1985), the installation features some parts of the actual DeLorean vehicle from the film. In the film, the DeLorean sports car was retrofitted with a flux capacitor to make it a time machine.
Shea consulted Wavelength Audio Video (Wavelength AV) and URC for the Time Machine Experience. The immersive experience recaptures the workshop of the central character Dr. Emmett Brown, also known as Doc Brown. It also provides an exact recreation of the opening scene. In that opening scene, Doc's radio turns on, his coffee pot starts brewing, the television turns on, toast is browned and dog food is dispensed. All this automation is triggered by sensors and custom programming provided by Wavelength AV and URC.
Shea added, "URC provided major components that made the final product an amazing, automated display which will be shared with many "Back to The Future" fans. They also have provided us with a sales engineer who has spent many hours helping bring this amazing display to completion."
The full list of equipment included the following:
MRX-30 advanced system controller
DMS-1200 audio distribution
CCLS sensors (6)
MRX-2 base stations
TDC-9100 (2) touchpanels
TRC-1480 handheld remotes
URC, Luxul Products Help Create Automated Version of Doc's Workshop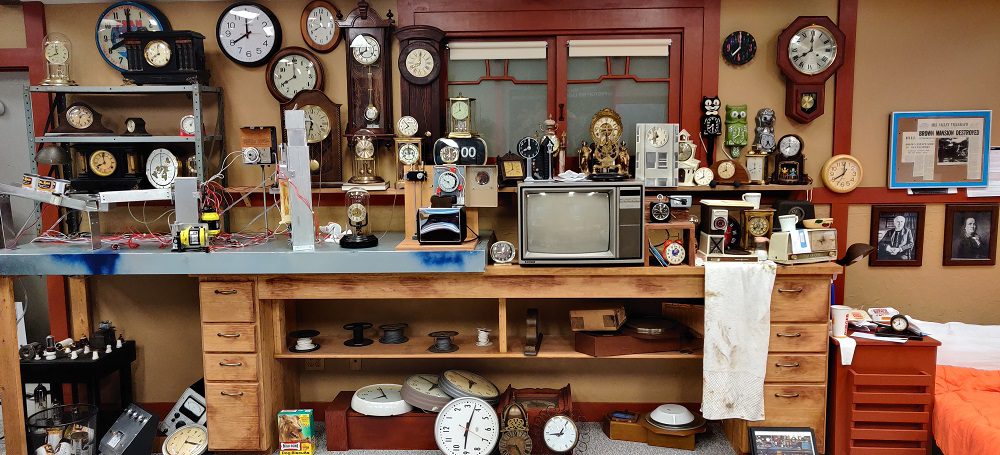 URC's Total Control was another major component of the Time Machine Experience. According to Lee Rambler, URC's director of sales, Total Control is ideal for deployments with unique customization.
Touch Control delivers premium automation and control for commercial and residential applications. This includes tabletop and in-wall touchscreen controllers, powerful system processors, mobile apps, high-definition music streaming amplifiers, voice control integration and more. It also integrates with thousands of AV and connected systems, delivering a robust, highly intuitive user experience.
"Working with Wavelength AV and Bill Shea's team allowed URC's field sales to provide an important resource and activate this experience," Rambler added.
Additionally, Luxul, innovator of professional-grade IP networking solutions, also played an important role in the installation by providing networking products. These elements aided in system networking and activating devices within the experience.
"Working with Bill Shea and Marcel Snipes from URC was an incredible experience for our team," says Tim Manning, solutions expert and systems designer, Wavelength AV.
The installation also captured the attention of Hollywood and played an important role in Discovery+ four-part original series titled "Expedition: Back to The Future." As part of the series, host Josh Grant and Christopher Lloyd (who played Doc Brown) searched for the iconic Time Machine. This led them to Shea and his 88MPH Time Machine Experience.
The series is now available for streaming on the Discovery+ platform.
Click here to see more photos of this modern version of Doc's workshop from Back to the Future!