For integrators looking to give customers the latest audio and video technologies for their media rooms, Harman Luxury Audio brand Arcam recently announced four new home theater models: the AVR11, AVR21 and AVR31 receivers, and the AV41 processor.
All models incorporate HDMI 2.1 with HDCP2.3 for support of resolutions up to 8K at 60fps or 4K at 120fps, along with support for HDR10+ and Dolby Vision. Audio specifications include the latest Dolby Atmos, DTS:X and Auro-3D immersive audio formats.
The units also support Apple Airplay2, Google Chromecast, Bluetooth with aptX HD, Spotify Connect, TIDAL Connect, Roon and MQA. For digital-to-analog conversion, the Arcam design team engineered each model with dual ESS9026PRO audiophile DACs, with ESS reference voltage regulators.
To mitigate a room's impact on system sound, Arcam includes a room calibration mic and advanced Dirac Live room correction software. The company also readies its models for Dirac Live Bass Control. Building on Dirac Live, Dirac Live Bass Management automatically maximizes low-frequency performance from all of an owner's loudspeakers.
New Arcam Models Specs at a Glance
The AVR11 and AVR21 each include seven channels of Class AB power amplification, rated at 7 x 85 watts (all channels driven) and 7 x 110 watts (all channels driven), respectively.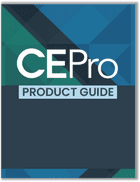 CE Pro's 2022 Product Guide showcases some of the latest and innovative solutions from manufacturers serving the custom electronics industry in a cross-section of categories.
Download the guide now!
The duo's AV decrypting capabilities are extensive, with the AVR11 featuring native 12-channel decoding and the AVR21 adding four more channels. The AVR21 also adds an HDMI output to the AVR11's pair, opening the option for a Zone 2 setup.
Related Home Theater News: Dirac Live Adds Auto Target Curve for Sonic Enhancements
Arcam equips the AVR31 receiver with seven channels of Class G amplification, which the company describes as multiple power supplies like a hybrid car engine rather than just a single supply.
When a dynamic signal is received that goes beyond the capability of the first power supply, the secondary supply is gradually introduced, bringing it up to full-rated power output as required, Arcam explains.
The AV41 is a high-performance, feature-packed AV processor that supports everything the AVRs support – plus its rear panel provides XLR-balanced outputs for all 16 channels to connect to power amplifiers. The company says the AV41 perfectly pairs with its power amplifier options: the PA720, PA240 and PA410.
"The audio and video performance of the new AVR range is simply spectacular," says Jim Garrett, senior director, Product Strategy and Planning, Harman Luxury Audio.
"Combine that thrilling performance with a best-in-class feature set, including fully uncompressed 8K HDMI video capability and the latest immersive audio decoding, and you have a real value that is unmatched in the market."