With decades of experience that includes high-performance consumer audio and professional audio, Ambisonic Systems has the ability to design "out-of-the-box solutions" that don't compromise performance.
Showing that it isn't a "me-too" company, the Ariz.-based manufacturer has taken a technology that's been traditionally used for commercial audio and audiophile applications in a new direction.
Utilizing planar magnetic ribbons setup in coaxial driver arrays, Ambisonic Systems has developed a loudspeaker line that addresses a range of applications that includes residential and commercial outdoor audio.
Engineered to deliver a quality audio experience in a variety of environmental conditions, including residential settings, bars, restaurants and hotels, Ambisonic's line of subwoofers and speakers can be mixed and matched to meet just about any requirement professional integrators encounter.
Ambisonic Systems Product Features
Ambisonic Systems offers 8-ohm and 70-volt loudspeaker products. Among the products in the outdoor product line is the Model 6.5HD-AW-L loudspeaker.
Employing a hybrid coaxial ribbon design, the Model 6.5HD-AW-L incorporates a 6-inch planar magnetic ribbon driver arranged in a true coaxial configuration with a 6.5-inch composite cone woofer.
The passive version is rated as an 8-ohm product that dips just below 6 ohms, the Model 6.5HD-AW-L is also an 89dB efficient speaker rated to produce a frequency response of 50Hz to 20kHz.
Ambisonic places these drivers along with an advanced 12dB Butterworth crossover network in an all-weather, trapezoid-shaped composite enclosure. The enclosure is IP-65 rated, and it ships with a landscape mount.
The speaker is terminated with a sealed pigtail connection to keep water, dust and dirt out of the speaker's electronics.
In addition, Ambisonic also supports the speaker with its optional BKT-6.5XV bracket to allow integrators to stack speaker modules.
Extending the Model 6.5HD-AW-L's low-frequency capabilities is Ambisonic's Model 10HDR-L subwoofer.
The 10HDR-L is an all-weather subwoofer that incorporates a 10-inch long throw woofer. Housed in a composite, ported enclosure, Ambisonic says it engineered the subwoofer to deliver punchy and impactful bass in outdoor environments.
The all-weather enclosure carries an IP-26 rating per IEC529, and it also features a powder-coated grille.
Like other Ambisonic products, the company also terminates the 10HDR-L with a pigtail input.
Powering the Model 6.5HD-AW-L speaker and 10HDR-L subwoofer is the Ambisonic Model D3200 amplifier.
Offering integrators three channels, the Model D3200 amp is rated to produce 2,000 watts of power at 4 ohms into channel one and 800 watts RMS at 4 ohms into channels two and three.
Utilizing UMAC Class D technologies from Pascal, the Model D3200 employs a design in which Pascal's UREC power supply technologies provide main operation for 120 volts and regulated secondary voltages. The amp also utilizes mixed-mode 64-bit digital processing, and DSP control via Ethernet.
Other features of the Model D3200 amplifier include 24-bit/96kHz analog-to-digital (A/D) conversion and digital-to-analog (DAC) conversation with just 0.6ms of latency, and a choice of front panel and DSP controls.
Moreover, the amp offers a choice of two analog inputs/outputs, and digital AES/EBU digital inputs and outputs.
One important option for the system is its Bluetooth streaming capabilities.
Ambisonic provides an external Auris BluMe Bluetooth receiver that facilitates the use of smart devices and computers as source components in the event the user doesn't own a source from a company like Sonos, Bluesound or even legacy products.
Ambisonic Systems Setup and Performance
Essentially comprising four components, the 2.1 Ambisonic system was easy to assemble.
Starting with the connection of the speaker cables to the amp, we inserted and locked the cables' SpeakOn connectors into the amplifier's inputs, which are located on the rear panel of the amp.
From there we took the female banana-plug inserts on the other end of the speaker cable and inserted the male banana plugs from the speaker's pigtail into the female banana plug terminated speaker cables.
The next step was drop the pair of speakers on their companion tripod stands and place the subwoofer in its location.
After powering up the amp, we then paired the optional Auris Bluetooth receiver with an iPad, and went through the basic operational functions of the amp to set its parameters.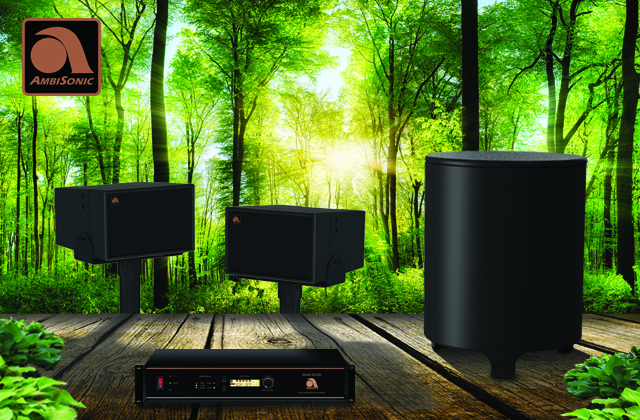 With the system setup and ready to run, we started streaming some content from Apple Music to the Bluetooth receiver to get a basic feeling of the Ambisonic system's sound quality.
Wanting to rock out with the Ambisonic 2.1 system, we chose content from Iron Maiden, AC/DC and Candlebox. The first impression of the system was it was dynamic and also forgiving at the same time.
Displaying the ability to play loud without compression or distortion—we measured the system's output at 90dB from approximately 14 feet away from the speakers.
The system was impressive with the audiophile levels of definition it delivered with well-defined bass, drums, vocals and guitar from these classic rock bands. Considering the ancillary effort that was put into the amp's operational parameters, it was surprising how well the sub and the speakers integrated to form a seamless soundstage.
Characterizing the Ambisonic system's sound, it delivers a warm sound with high levels of resolution and balance.
Considering the use of Bluetooth and Apple Music's 256kbps streaming quality, warmth is not a term normally associated with wireless and 256k streaming services, but perhaps through the system's overall balanced frequency response, the system's engineering is able to overcome what audiophiles would consider subpar source content and delivery mechanisms.
Later through other listening sessions and a variety of content that includes Frank Sinatra and the Count Basie Orchestra, Lisa Loeb and Natalie Merchant, the system displayed its smoothness and micro dynamics.
Content like the Frank Sinatra and the Count Basie Orchestra record Sinatra at the Sands features horns and drums that provide peak dynamic moments.
Without flinching the Ambisonic system retained those moments and played them with no transient delay, and it did so with clarity and power that emphasizes the company's commercial audio background.
Validating the system's low-frequency extension, we ran test tones and was able to measure the subwoofer's ability to play down to 25Hz with no appreciable roll off.
Related Content: CTA Names 2018 Mark of Excellence Winners
The only important thing for dealers to note is that like any other wireless technology, Bluetooth's behavior isn't as reliable as a traditional wired source component such as Sonos or Bluesound.
As long as homeowners understand that, using the optional Bluetooth capabilities should be more than a fair tradeoff because of the instant access convenience to a wealth of content Bluetooth provides.
Assessing the value and performance of the Ambisonic system, it's sound quality is worthy of in-home applications if weren't for its utilitarian industry design. Looks, aside, the system could give traditional residential in-room systems a run for their money without hesitation.
Through its sound quality, which naturally lends itself to critical outdoor applications such residential home theaters and multizone whole-house audio systems, dealers can offer this system to clients with total piece-of-mind that they are providing no-compromised performance and reliability.
In addition, for professional integrators that service the commercial market, Ambisonic's products can also be used to address bars, restaurants and hospitality facility installations.
Through its use of cutting-edge engineering techniques and commercial-grade components, Ambisonic has delivered a family of products that meets just about every professional audio outdoor installation scenario without compromise.
It's this no-compromise approach that dealers and clients can both appreciate over the course of time enjoying the benefits of what may be one of the few high-performance outdoor audio systems in the residential and commercial markets worthy of praise.
Ambisonic System Specifications at a Glance
Model 6.5HD-AW-L Outdoor Loudspeaker
Residential and commercial applicable
Wide horizontal response
Coaxial driver array with 6-inch Planar Magnetic Ribbon tweeter and 6.5-inch woofer
Molded urethane composite enclosure and powder-coated steel grille
Pigtail connections
Model D3200 Amplifier
UMAC Class D by Pascal amplification technologies
Mixed-mode 64-bit digital processing
24-bit/96kHz analog-to-digital and digital-to-analog converters
Two analog inputs/outputs, digital AES/EBU inputs/outputs
Three-channels driven Ch (1) 1,600 watts into 8 ohms, channels (2 & 3) 400 watts into 8 ohms
Model 10HDR-L Subwoofer
All-weather long-throw woofer that includes composite cone
All-weather enclosure meets IP-26 rating per IEC529
Stainless steel hardware
Powder-coated grille
Applicable in residential and commercial audio installations