One of the most popular forms of multimedia these days is podcasts. In today's world of smart devices and streaming content the public can listen to whatever they want, when they want through the power of podcasts.
Feeding the public's multimedia appetite, there seems like there is a podcast for every conceivable topic that someone could ever discuss.
Validating the wealth of content that podcasters make available, a look at the list of Apple's top 100 podcasts, there are big names such as Joe Rogan, Bill Simmons, Conan O' Brien and Rachel Maddow, for example, that produce some of the most listened content on the Interweb.
The list of top podcasts also reflects current events. A good example is the sudden popularity of "Tiger King" podcasts. In this environment of self-quarantining, people at home have been binging the Netflix series and it's become the talk of social media since its release.
Anytime is the Right Time to Listen to Podcasts
One thing that is interesting when looking at the podcasts that someone listens to is how their choices often reflect their hobbies and interests.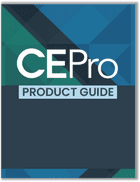 CE Pro's 2022 Product Guide showcases some of the latest and innovative solutions from manufacturers serving the custom electronics industry in a cross-section of categories.
Download the guide now!
In my case, I listen to podcasts about music, martial arts and hockey. Now, I'm sure there are educational podcasts available on each of these topics, but my listening of these podcasts focuses on the behind-the-scenes aspects the professionals in these fields encounter.
Getting some help with providing a diverse selection of topics, I asked CE Pro staff members to share their thoughts on podcasts. Stepping up to share his favorites, managing editor Arlen Schweiger offered his favorite podcasts, so here we have seven podcast recommendations to check out while at home:
To learn more about these podcasts click here.