It would be hard to argue against the popularity of action movies, which are often driven by guns, explosions … and of course fighting.
A case could be made, especially by those in the martial arts community, that most of these action movies depict fighting as glamorous, unrealistic activities that are nothing more than choreographed sequences of eye candy.
Some within the martial arts community would contend that in order to see a real fight, someone would be better off watching the UFC, Bellator or boxing, which all provide fighting entertainment based on the skills of professionals competing against one another.
With that said, movie fight scenes and martial art movies first took off in popularity through the efforts of martial art pioneers such as Bruce Lee and Chuck Norris.
Newer martial artists, including Michael Jai White, Dolph Lundgren, and even the polarizing Steven Segal have spent years training in arts such as Kyokushin Karate, Mauy Thai, Aikido and Taekwondo, and they've brought these scenes to a higher level throughout the 1980s, 1990s and early 2000s.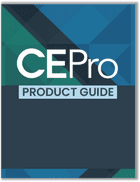 CE Pro's 2022 Product Guide showcases some of the latest and innovative solutions from manufacturers serving the custom electronics industry in a cross-section of categories.
Download the guide now!
Moreover, taking the martial arts action to the next level in modern movies, you see ex-MMA (mixed martial artists) such as Randy Couture, Chuck Liddell, Bas Rutten, Renzo Gracie, George St. Pierre, and Donald "Cowboy" Cerrone in a range of roles.
Today, with so much talent in these action movies, trying to figure out what is real and what is choreographed can be difficult.
A few years ago St. Pierre explained in an interview for the UFC website, that even though he's a trained fighter that fights in the movies, those fight scenes are much different than it would be in the Octagon or real life.
"I changed one thing but for the most part it was the stunt team; I'm a professional fighter but not a professional in the movie business so I let them do their job. When you fight for camera and when you fight for real it is very different. When you fight for the camera you have to make everything look big and I was not used to that, but I had a lot of help from the stunt team," St. Pierre told the UFC website back in 2014.
"When I arrived in Los Angeles to meet the stunt team they showed me what I needed to do. We went through the whole fight scene and broke it down into parts. There's a lot of repetition and changing of camera angles until it looks perfect on camera. At first it looked very hard but with their help I managed to do it. There were one or two little things I couldn't do as it involved a lot of acrobatic stuff, but the rest I did myself."
Action Movies do Contain Realistic Action
Even though action movies utilize a lot of highly planned out fighting scenes, it doesn't mean that all of the action is unrealistic.
Many of these scenes can and do contain realistic fighting scenes.
Asking for a professional's help in finding some of these realistic action movie fight scenes, CE Pro asked Sensei Marc Hicks, owner of 5 Dragons Martial Arts Academy in Haverhill, Mass., to choose six movies with some realistic fighting action.
Hicks is a big movie fan, and he's also been practicing martial arts for decades. Hicks holds a brown belt in Okinawa Shin Ru and a black belt in the full-contact standup Kyokushin style of Karate.
Serving his country in the Army, Hicks also used his martial arts background to teach self-defense to army wives on base while he was stationed in Colorado.
Explaining his choices, the Kyokushin black belt says a couple of things that separate realistic fighting action from "Hollywood" fighting is the closeness of the combatants. Styles such as Kyokushin and Muay Thai are well known for their up-close punching and kicking action.
Applying his self defense and army training, he adds that in stabbing scenes it is more realistic to stab someone several times rather than once.
For a greater explanation on some realistic fighting scenes, check out Hicks' list of six action movies with realistic fight scenes here.