Jeff Galea, president of Boca Tech and Automation (BTA) in Boca Raton, Fla., was waiting to find the perfect application to deploy Modulus Media servers for a client, and he finally found it in a unique marine application. Indeed, the application is so ideal he is installing two Modulus M1 media servers on a single vessel along with 10 MX1 clients.
The Modulus Media M1 and MX1 media servers are unique in the market because of their ability to capture the recording natively streamed content after decryption, avoiding potential digital rights management issues. In simplified terms, a streamed signal undergoes a series of processes as it is sent to a hardware device, including decryption, decoding, rendering and compositing. Modulus Media captures the stream in rendering, then splits the audio and video, multiplexes it back together for recording. That process enables the streaming content to be recorded in the background while the user is watching something else.
For Galea, the uniqueness of the product required finding the right application.
"In the era of streaming media, I kept asking myself why anyone would ever want to record Netflix, when you could just log onto Netflix and watch it? I thought recording streaming media content onto a media server just added a layer of complexity," recalls Galea.
"Of course, Netflix, Amazon Prime and other streaming services remove programming content all the time, so recording it to your media server would preserve that access, but still, there is plenty of other available content to watch."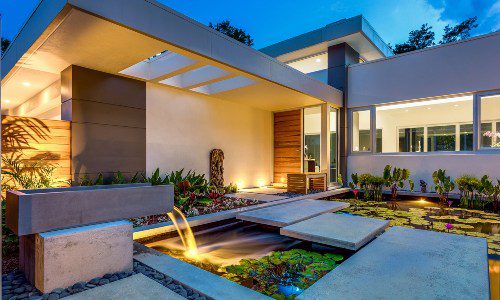 Landscape and architectural lighting create a magical and elegant ambiance for homeowners. The outdoor lighting industry has always been a phenomenal one and continues to grow in popularity. Now is the ideal time to learn more about this rapidly growing and highly profitable industry. Join our panel of esteemed lighting experts that will dive into why it's time for integrators to rethink their role in the outdoor lighting industry.
Register Now! 
But then came this particular marine application. The 200-foot vessel requires access to the streaming media options such as Netflix or Amazon Prime while out at sea, where Internet access is limited or often non-existent.
"The idea was to invest in something state of the art for this vessel, which would allow guests onboard to watch Netflix originals or Amazon Prime while they are out in the middle of the ocean," says Galea.
The solution entails two headless Modulus M1 media servers serving content to 10 MX1 clients which are inputs into a 64×64 matrix switcher along with traditional sources such as DirecTV and Kaleidescape. When the ship is in port and has Internet connectivity, the Modulus Media servers do multi-channel recording of streaming media collections and store them on the hard drive with the ability to be replayed out at sea.
Boca Tech & Automation, a CE Pro 100 and HTA Certified integration firm, worked closely with Modulus Media to develop several of the key features necessary for the success of the installation, including batch recording and multi-channel recording capability, which is key because the ship might be in port for only a few days, but out at sea for a week. Since the Modulus Media servers currently only record in real time, it means it takes one hour to record a one-hour show, so that is why the multi-channel recording capability is so important.
In addition, the vessel is used for charters – so it was important that new users are able to easily use the system without the risk of deleting content, and that the user interface was integrated into the existing touchpanel-based control system. Because the MX1 clients could be routed anywhere in the vessel via the video matrix switch, the native Bluetooth paired Modulus remotes could not be used.
The BTA and Modulus engineering teams developed a new user interface which they dubbed "hotel mode" that solves this problem nicely. The new interface is customized to match the branding of the vessel and also supports a simplified navigation system that works well with a control system.
Another newly developed feature is the ability to auto-detect the duration parameters of the recordings. That feature eliminates the need for a person to have to manually cue up a new recording after a previous recording is complete. "This marine application makes a lot of sense; there is no other company competing in a marine application use case like this. Nobody else can do it and it could become a very big market for Modulus," he comments.
Home Movie Recording Libraries
Another use case the team at Boca Tech & Automation stumbled upon for the Modulus Media servers is importing home movies.
"I also love the fact that you can put home movies on it. Once you import home movies or DVDs on to other media servers, they are locked in there. You can never get them off again. It's like putting them inside a post office mailbox and you can't retrieve them. The Modulus Media server is a secure way to distribute home movies with or without a video matrix switch," says Galea, who uses 4K-based media servers such as Kaleidescape most of his home theater projects.
"I could see using the Modulus Media server to normalize the content into a single library. You could have content from Amazon Prime, content from Netflix, and a personal library of home movies all mixed together. That could be a good niche. People don't want to have to search for content in a particular streaming service. They just want to find the content, no matter where it came from. The Modulus Media server can consolidate it all together," he adds.
Modulus Patented User Interface
One way the server enables the user to find content more readily is via its user interface. The company has a patent for its the "slot machine" design of its on-screen user interface that allows users to gain fast access and organize their content. While not a good fit for this particular application, Modulus Media also has a design patent for its backlit remote control that includes voice, an air mouse, a QWERTY keyboard, IR learning, RF, Bluetooth and even a headphone jack.
"The user interface is gorgeous. They have got great graphic art," says Galea.
If you enjoyed this article and want to receive more valuable industry content like this, click here to sign up for our digital newsletters!