When it comes to modern AV systems such as home theaters, it's easy to get lost thinking about laser 4K projectors, 8K televisions, AV processors, speakers and receivers. Often however, there are other elements such as remote controls, cabling and other items that are overlooked when conceptualizing these systems.
AV systems and home theater accessories are the glue to modern home entertainment. It's noteworthy to point out that while these products don't provide the sexiness of a 120-inch 4K HDR image or the visceral response of immersive audio, but a good system would never be able to achieve a high level of performance without the use of these home theater accessories.
Home Theater Accessories Fall into 2 Categories
When evaluating what a system needs beyond the aforementioned AV receivers, projectors, speakers and other components, these supporting products could be broken down into distinct categories such as essentials and add-on amenities.
Essential accessories include products such as HDMI cables, power protection, remote controls and some sort of equipment storage unit such as a rack or furniture.
Optional accessories could range from home theater curtains and seating, to anamorphic lenses, and lighting and shade products.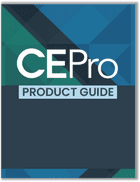 CE Pro's 2022 Product Guide showcases some of the latest and innovative solutions from manufacturers serving the custom electronics industry in a cross-section of categories.
Download the guide now!
Taking a look at some of the products available today there are more of these solutions available than there has ever been before. The reasons why there are more accessories can be attributed to the fact that home theaters are surging in popularity due to technologies like 4K and Dolby Atmos, and people are spending more time at home due to COVID-19 restrictions. Combine home theater's surging interest with the rapid evolution of the smart home and solutions such as shades and lights, it's easy to see why people would want to integrate all of these elements into easy-to-use, high-performing single systems.
Here are 18 home theater accessories from companies that include:
Check out the full list of home theater accessories by clicking here!