URC Adds Vantage, Autonomic, Apple TV Drivers, Alongside Sonos, DirecTV
URC has been tearing up the two way home automation driver business, with the release of several new drivers recently, including Vantage Infusion, Autonomic Mirage and Apple TV.
CE Pro Editors ·
April 30, 2015
URC's Total Control home automation system now offers two-way integration with several more third-party subsystems, including Vantage Infusion controllers, Autonomic Mirage Media players and Apple TV. Those drivers join Sonos and DirecTV, which were both recently released by URC.
Here's the scoop on the newest integration modules:
Vantage
- Compatible with Vantage Infusion Controllers IC-36 and IC-24.
- Full integration of Vantage lighting and thermostats via IP.
- Event Triggers and Querying can perform actions based on changes in the user's environment.
Autonomic
- Created by Autonomic for integrating with MMS-2A and MMS-5A music players.
- Supports both one-way and two-way commands.
- Enables integrators to assign hard-buttons on URC remotes for features such as volume up/down, play/pause (toggle), skip next, skip previous, mute and other critical functions.
Apple TV
Beta version available from Dash OS
URC facilitates third-party driver development through its software development kit.
URC Dealers can visit The Control Room at universalremote.com to find more drivers.
---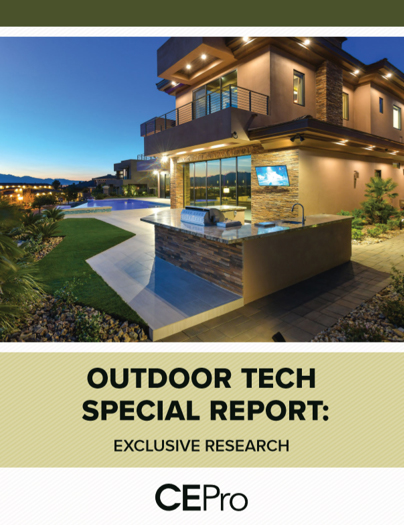 Find Out Why 63% of Integrators Expect Outdoor Business to Grow - CE Pro Download
The outdoor technology market is growing – both the demand from customers and the array of products available. According to our recent CE Pro survey, integrators are taking advantage of this opportunity to grow their businesses. Get your copy of the survey today.
---