Pro Musician Rick Beato Says Audiophiles May 'Simply be Guessing'
Music industry professional Rick Beato says that training is the biggest factor when it comes to critically evaluating music.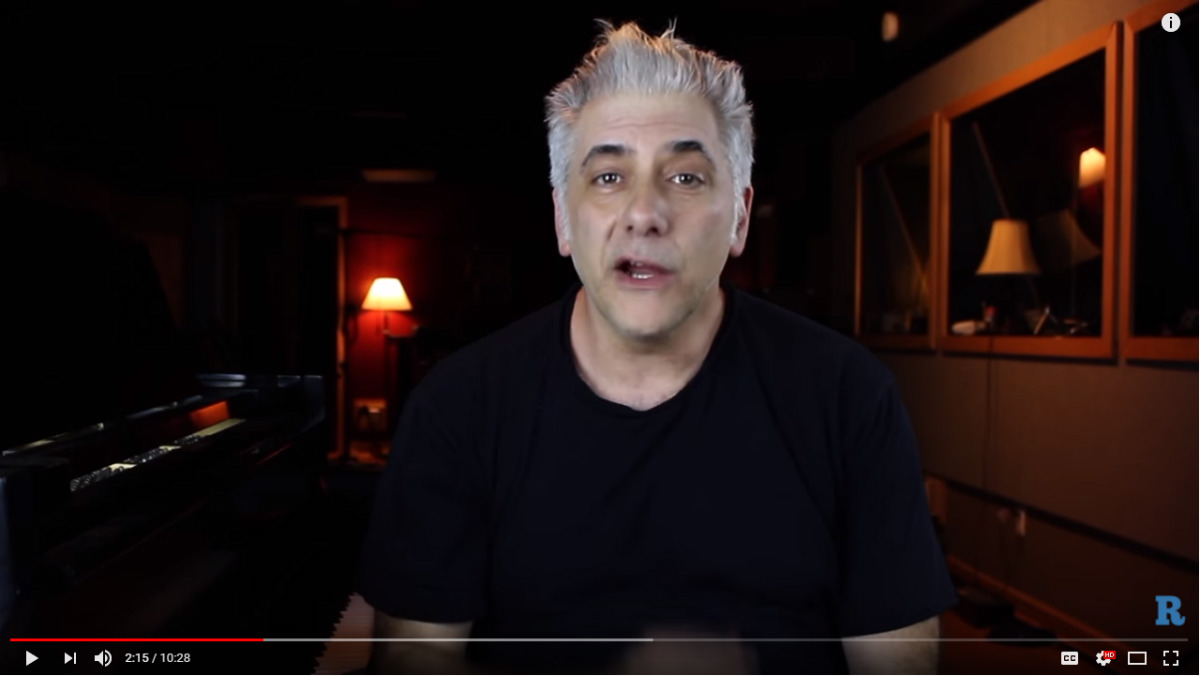 Robert Archer
·
March 6, 2018
Is the popular online music teacher, songwriter and producer Rick Beato calling out the audiophile community in his latest YouTube post?
Beato, a professional musician with a number one single to his songwriting credits, along with a Masters degree from the prestigious music school New England Conservatory (NEC), and thousands of social media followers, says listeners can't distinguish between audio files once they reach a certain level of quality.
Beato states in his YouTube video that, "It's very unlikely that he nor anyone else can tell the difference between a 320kbps file and a 44kHz WAV file," and that they may "simply be guessing." Beato explains that he was responding to a fan asking for his record in a 24-bit/44kHz version.
Beato says that he told the fan that once a listener gets to the level where they are listening to 320kbps files and above, they are guessing at the quality level of the file because even trained professionals can't tell the difference.
"And I said that if someone tells them they can then don't believe them."
"It's very unlikely that he nor anyone else can tell the difference between a 320kbps file and a 44kHz WAV file,"
— Rick Beato
Beato's claim, of course, flies in the face of decades of activity in the consumer audio market, which up until recently staked its reputation on being the arbiters of good sound.
Moreover, his post supports the evolution of the music industry, which has transitioned from physical media, to downloads, and now to streaming media.
This evolution is being driven by Millennials and other "lifestyle consumers," which has resulted in most of the music consumption being done with content that is less than CD-level quality through a range of streaming services.
Music Teacher Rick Beato Backs His Auditory Claims
After providing some background on compressed audio files, Beato says in order to test his theory, he asked his assistant to take an audio test put together by NPR called "How Well Can you Hear Audio Quality?"
His assistant Michelle is not a typical Millennial or consumer who just simply likes music. Michelle has a degree in music production from Berklee School of Music; she has hearing up to 18.1kHz, and she has perfect pitch, which means she can hear a musical note and identify it without a reference tone.
Related: Consumer Audio Needs a "Shot of Youth:" Lessons from Millennial Marketers
Once Michelle completed the test, Beato points out that someone with good hearing, perfect pitch and audio production training could only score 66 percent.
Beato continues by stressing that as people age they tend to lose the ability to hear higher frequencies.
"You also might not be able to tell the difference between an MP3 and WAV file. It doesn't matter ... it doesn't mean that your ability to balance a mix has anything to do with that."
— Rick Beato
He also points out that most of the professionals in the audio production world range in age from their mid 40s to their 60s, and regardless of the monitors they are using, they are able to mix audio because of their training and the many years of experience they have in the field despite any hearing limitations.
"Your ability to be an audiophile is actually dependent on the ability to hear things that really don't depend on your ability to hear frequencies that are really high or things like that," he comments.
"You also might not be able to tell the difference between an MP3 and WAV file. It doesn't matter ... it doesn't mean that your ability to balance a mix has anything to do with that. There's a lot of experience involved with this in how frequencies work together, and they have different strategies they use that go beyond just your ability to hear."
He adds that if he were to go out and buy an audiophile pair of speakers they probably wouldn't play audio the way the artists and production people intended the content to sound.
Beato concludes his premise saying that so much of what someone hears is what they've been trained to hear.
Also Read: Beatles, Pink Floyd Engineer Alan Parsons Rips Audiophiles
The audio quality of things, whether its 128kbps MP3, 44k, 96k, 64-bit recording, a lot of that does to have as much to do with things," he states.
"People really can't tell the difference, even the guys that are mixing these things, but their ears and experience give them the taste to know what sounds good. Ultimately that is what is important. It's not about how old you are or anything, it all comes down to how you listen to music, and whether it sounds pleasing or not."
So, turning this around to a consumer audiophile perspective: Based on Beato's commentary, does the audiophile community make too much of a fuss over the digital file debate? Does the audiophile community's pursuit of high-end gear cause them to lose sight of the possible truth that they lack the training and experience to properly differentiate audio file quality?
---
2019 State of the Industry Special Report - CE Pro Download
The custom electronics industry saw a healthy 8 percent growth rate in 2018, down slightly from the blazing 11 percent growth in 2017 but still admiringly strong. Our 2019 State of the Industry indicates that readers expect to see even more growth in 2019. Get your copy today.
---
About the Author
---
Bob is an audio enthusiast who has written about consumer electronics for various publications within Massachusetts before joining the staff of CE Pro in 2000. Bob is THX Level I certified, and he's also taken classes from the Imaging Science Foundation (ISF) and Home Acoustics Alliance (HAA). Bob also serves as the technology editor for CE Pro's sister publication Commercial Integrator. In addition, he's studied guitar and music theory at Sarrin Music Studios in Wakefield, Mass., and he also studies Kyokushin karate at 5 Dragons in Haverhill, Mass. Have a suggestion or a topic you want to read more about? Email Robert at rarcher@ehpub.com
Follow Robert on social media:
Twitter
Robert also participates in these groups:
LinkedIn · Google+
Speakers
3 More Show-Stoppers from ISE 2019: 'Quite Revolutionary'
Product Briefs: Josh.ai Integrates with Savant;Dow Electronics; Elite Anniversary; Crestron Security
16-Channel Acurus Muse Processor Delivers Dolby Atmos, DTS:X
15-Zone Wireless Audio System Too Much for DIY
Genelec Loudspeaker Features Finnish Design, Auto-Calibration Software
View more on Speakers
Take Our Latest Quiz
How Well Do You Understand Ethernet Cables and Connectors?
Bose