The Palladio PL-664 line of in-wall and in-ceiling loudspeakers help provide integrators and homeowners with high levels of sound quality and room-friendly looks.
Sonus faber is an Italian audio company that has been popular in the audiophile market for years. Expanding into the custom installation market, the company not long ago introduced its Pallladio series of architectural loudspeakers.
Available in a choice of two product lines—Level 5 and Level 6—the Palladio series of loudspeakers offers integrators a large selection of in-wall and in-ceiling speakers to meet just any installation scenario an integrator will encounter.
According to Sonus faber, the architectural speakers are designed to sonically match its Sonetto and Olympica in-room products. The Level 5 series includes a choice of two in-wall speakers and four in-ceiling speakers, while the higher end Level 6 series includes two in-wall speakers and five in-ceiling speakers to provide a total of 13 loudspeaker choices.
Sonus faber points out that both the Level 5 and Level 6 series products can be paired with its companion PSG-101 passive in-wall subwoofer to provide low frequency reinforcement for applications that includes home theater.
Offering a higher, more predictable level of performance, the Palladio Series' PC-664P, PL-664 and PW-662 speakers incorporate sealed cabinet designs to eliminate sound leakage into adjacent rooms.
Additionally, Sonus faber notes, the Level 6 products utilize die-cast aluminum baskets, and the Level 5 series products employ silk-dome tweeters that are framed by aluminum flanges.
Moreover, the Italian company emphasizes all Palladio speakers come with magnetic grilles, and the Level 6 speakers have the option of Sonus faber's elastic grilles to mimic the look of its classic loudspeakers, as well as its optional wood baffle trim kits.
Sonus faber Palladio PL-664 Series Performance
Once the Palladio PL-664 three-way LCR loudspeakers were installed I connected the speakers to an inexpensive integrated amplifier that includes Bluetooth and legacy source connection options (a set of RCA inputs).
After I connected a CD player to the amplifier, I was able to use CDs and my Apple Music account via my iPhone and wireless Bluetooth. Splitting my listening pretty evenly, I listened to equal amounts of wireless music and CDs to form an opinion on the speakers' sound.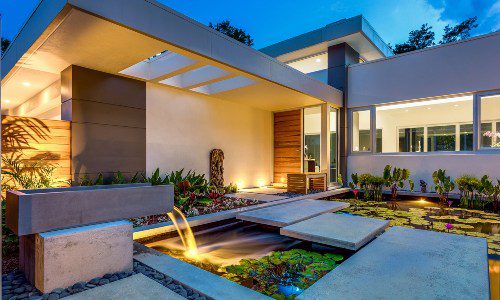 Landscape and architectural lighting create a magical and elegant ambiance for homeowners. The outdoor lighting industry has always been a phenomenal one and continues to grow in popularity. Now is the ideal time to learn more about this rapidly growing and highly profitable industry. Join our panel of esteemed lighting experts that will dive into why it's time for integrators to rethink their role in the outdoor lighting industry.
Register Now! 
Listening in a room that is far from ideal for critical listening, I thought the speakers performed really well. The Bluetooth content obviously didn't have the same depth and richness as the full 16-bit/44kHz CDs, but the PL-664s were forgiving enough to provide a high level of listening entertainment during my Bluetooth listening sessions. Summing up that experience, I would say the Palladio PL-664s are not cold or analytical sounding; instead, they are musical enough to make Bluetooth content an enjoyable listening experience.
---
CE Pro Specifications
Three-way design and sealed enclosure
The PL-644 includes a 1.1-inch tweeter, along with a 3.1-inch midrange driver and 6.5-inch woofer
The speaker's wood trim options include wenge and walnut, along with a standard black baffle
LCR design permits use in home theater and whole-house audio systems as a vertical or horizontal speaker, including options to reposition the tweeter housing based on the speaker's orientation
The 4-ohm speaker is rated as 90dB sensitive
---
CD content sounded much better.
Using the lossless content of CDs, the Sonus fabers sounded punchier and more dynamic. Circling back to the forgiving nature of the speakers, I listened to The Aristocrats' first CD, which is a bit dynamically compressed. Despite the mastering of this CD, I still felt the music was involving. The speakers' tight image and wide soundstage I think contribute to their forgiving nature. The musicality the speakers bring to the table include the ability to add air and natural smoothness to heavily "mastered" content, as well as wireless Bluetooth without changing the tonality of the content to contribute to the overall fidelity of whatever type of content is played through the speakers.
Moving onto some other CD-based listening, I was really impressed with the song Fives from Guthrie Govan from Lee Ritenour's Six String Theory record Featuring Tal Wilkenfeld on bass and Vinnie Colaiuta on drums. This song showcased the resolution, tonal accuracy and dynamics of the speakers.
On this track Wilkenfeld's bass sat firmly in the soundstage with strong definition and articulation. Hearing the micro detail of Colaiuta's drumkit I could hear the differences in timbre between the drummer's china and crash cymbals, along with the power of his snare and the rest of his drums.
In the middle of the soundstage was Govan's guitar. His flawless technique could be heard in full display. Govan is usually classified as a "shred cat." However, unlike many shredders he doesn't play with the same level of gain and aggressiveness. As a result when listening to a set of speakers like the Palladio PL-664s, you can hear subtle detail of his alternate picking and legato technique (guitar nerd terms) to really highlight why he is regarded so highly in the guitar community.
Focusing on vocal reproduction, I thought Roger Water's singing was clean and clear and his doubled vocal lines were nicely delineated on Breathe from Dark Side of the Moon. With female singers, including Susan Tedeschi and her song Loving You is Sweeter … I thought the speakers conveyed the power and smoothness in her voice as more musical examples of just how well the speakers perform as an overall loudspeaker solution.
Based on the performance and aesthetics of the Palladio PL-664, the Palladio line of in-wall and in-ceiling loudspeakers will provide integrators and homeowners with very high levels of sound quality and room-friendly looks.
Moreover, from an integrator's perspective, through the many speaker options available through the Level 5 and Level 6 series, there should be a product to meet any system requirement. Additionally, the speakers will install easily, and with options such as the adjustable tweeter housing, which lets dealers position the tweeter based on horizontal or vertical orientation, and the baffle trim panels, Sonus faber covers all the bases.
Adding all of this up, the Palladio series instantly shoots to the top of the list of best architectural loudspeaker lines.
If you enjoyed this article and want to receive more valuable industry content like this, click here to sign up for our digital newsletters!