The growing prevalence of digital technologies in our lives has, in the eyes of Tomas Smalakys, CTO at NordLocker, fundamentally changed the scope of cybersecurity services. It's because of this that the landscape of cybersecurity is constantly changing, making it all the more important to stay two steps ahead of threats. More connections mean more access points for hackers, and the smart home provides a no shortage of access points for those trying to access personal information.
While integrators have largely avoided client cybersecurity for one reason or another, research from NordLocker has revealed some new and disturbing trends developing as we head towards 2023.
From new strains of potent malware to major policies threatening privacy and encryption, if you're not already offering a cybersecurity solution to your clients, these may give reason enough to start doing so.
5 Cybersecurity Trends Affecting the Smart Home in 2023
Fileless Malware Requires a Lot Less Input
Because fileless malware does not require its victim to download any files, it is practically undetectable by most information security tools. This type of malicious software works by exploiting vulnerabilities in already downloaded, well-known, and trusted applications, leaving no trace on the system. Fileless malware requires significant skills to develop and carry out, but if it's successful, it can do immense damage.
Attacks Follow Employees Back to the Home
With the human factor being the culprit behind more than 80% of cyberattacks, the move for many to remote work will only see cyberattacks that used to happen on company networks potentially move into smart home networks. Meanwhile, companies themselves will still struggle to instill proper cyber hygiene principles, leading to susceptibility remaining as high as ever.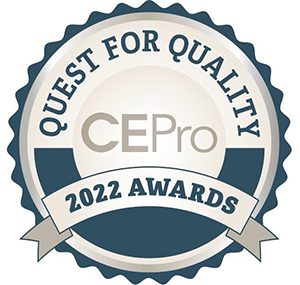 CE Pro urges integrators to recognize their suppliers that go above and beyond to deliver premium support and service. Cast your vote today to recognize the services (not the products) from your favorite manufacturers and distributors.
Cast your vote today!
Ransomware Is Becoming Far More Targeted
Usually, ransomware is spread randomly to numerous targets by phishing or other social engineering methods with the hopes that someone will click the link or provide their credentials. More recently, however, ransomware gangs have been applying a different approach that is more carefully crafted to each individual victim and can do much more damage.
The Cloud Will Bear the Brunt of Most Attacks
With companies increasingly moving their data into the cloud instead of storing files locally on their computer, Smalakys sees a growing number of cyberattacks that exploit vulnerabilities in current solutions.
EU Encryption Laws Will Make User Information Far More Exposed
To curb various online crimes, the European Commission has put forward a proposal to weaken encryption laws across the bloc. If it passes, the new law will require digital platforms to scan every single message or file sent through their services for suspicious content. While the motivation behind the initiative is well-intentioned, it would make the internet much less private and secure, feeding into the ransomware mentioned ealier.
Bonus Reason: Everyone Else is Discounting Cybersecurity Services
With a looming recession, many companies and individuals are rethinking their budgets, and cybersecurity spending is often among the first to go. But thinking that a pre-existing product is 'good enough' simply isn't going to cut it as the year progresses. Criminals are going to exploit this lowered guard to find vulnerabilities and find their way into every nook and cranny they can get into. It's very likely to make 2023 one of the costliest and most destructive years as a result, and those who are still offering a cybersecurity service at the outset will reap the rewards as cyberattacks pile up.