Resideo Technologies (NYSE: REZI) jumped more than 40% on Thursday after the smart home technology manufacturer posted better-than-expected third-quarter results.
Resideo reported quarterly earnings of 60 cents per share on revenue of $1.36 billion, which bested Wall Street's consensus estimate for 5 cents per share in earnings on sales of $1.15 billion. Revenue increased 10% year over year.
On Oct. 30, the company paid the previously deferred (April 30) $35 million Honeywell reimbursement agreement payment, as well as the regularly scheduled reimbursement agreement payment of $35 million.
"Our revenue performance and the progress with our ongoing transformation and cost reduction initiatives enabled us to strengthen our liquidity position, and in late October we made all outstanding Reimbursement Agreement payments to Honeywell," Jay Geldmacher, Resideo's president and CEO, states in a press release.
"While we are closely monitoring our operations and supply chain for impacts related to the COVID-19 pandemic, we are encouraged by the strong demand trends we are seeing across our end markets as we close out 2020."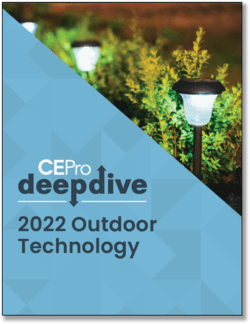 The 2023 CE Pro Outdoor Technology Deep Dive reveals unique set of impediments, including explaining pricing and interacting with outdoor-centric trades.
Get your copy now to take a "deep dive" into the trends and challenges of outdoor technology.
Download the report now!
Resideo Quarterly Report Highlights
The quarterly report included the following performance notes:
ADI Global Distribution segment revenue up 11% to $790 million, due to increased volume from project business.
Products & Solutions segment revenue grew 12% to $572 million, due to positive demand trends across each of Products & Solutions' primary end markets.
Gross margin rate improved 200 basis points (BPS) to 27.2%, due to higher revenue and sourcing and productivity cost savings initiatives.
Operating income +122% year over year; net income +838% year over year; diluted earnings per share (EPS) +900% year over year.
Adjusted EBITDA increased 65% to $188 million
The company said it expects fourth-quarter revenue to be in the range of $1.36 billion-$1.41 billion vs. $1.30 billion; operating profit in the range of $130 million-$140 million; and, adjusted EBITDA in the range of $180 million-$190 million.
---
This article originally appeared on our sister publication Security Sales & Integration's website.