Napco Security Technologies (Nasdaq: NSSC) just reported its net sales increased 12% to a first quarter record $26.3 million as compared to $23.4 million for the same quarter last year.
Recurring service revenue for the quarter increased 42% to $5.4 million as compared to $3.8 million for the same quarter last year. Recurring service revenue now has a prospective annual run rate of $21.9 million based on Sept. 2019 recurring revenues, according to the company.
Napco also reported net income for the quarter increased 115% to a first quarter record of $3.2 million from $1.5 million a year ago. Earnings per diluted share for the quarter increased 113% to $0.17, as compared to $0.08 for the same period a year ago.
Adjusted EBITDA for the quarter increased 91% to $4.0 million or $0.22 per diluted share from $2.1 million or $0.11 per diluted share a year ago.
Napco President and CEO Richard Soloway attributed the company's financial success to its StarLink communicators and FireLink control panels. Here's what he had to say about Napco's financial results: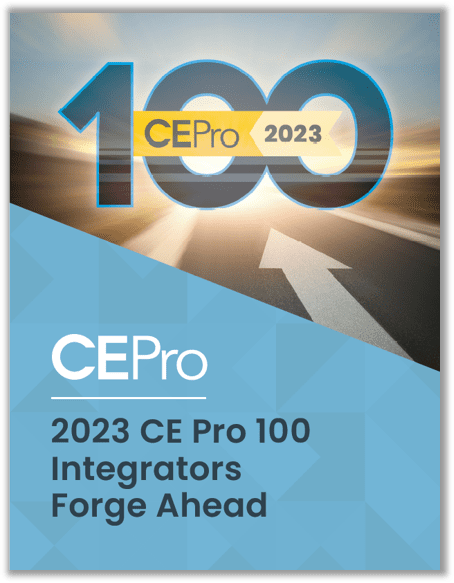 Which companies in the custom integration market made CE Pro's 24th annual CE Pro 100 list?
---
"Our Company's Q1 performance gave us a strong start to our Fiscal 2020 year and we have maintained our momentum during 21 consecutive quarters of year over year sales growth for Napco. Our strategy of investing in the engineering and marketing of innovative products, positioned in high sales-growth markets, with an emphasis on driving strong gross margin and recurring service revenue (RSR) growth, continues to pay dividends for us. The investments in the research & development and marketing of our security, fire, communication, access control/locking and IoT product solutions, provide the foundation for future growth in our sales and profits.
"StarLink cellular communicators, with their unique Panel-Powered Technology and communication coverage, continue to achieve solid sales and market share growth, driving a 42% increase in RSR this past quarter. During Q1, we continued the rollout of our new LTE StarLink line of universal fire, intrusion alarm and IoT communicators, giving the StarLink product line the ability to communicate on both the vast Verizon LTE and AT&T LTE networks. This enables Napco to provide our dealers with widespread LTE service coverage area in the Wireless Cellular Alarm Communicator Category and one of the most feature-rich, complete line of alarm communication solutions in the industry.
"Addressing the need for millions of aging, landline-connected fire alarm control panels, to be upgraded to wireless, cellular or cellular/IP based communications technology, StarLink Fire LTE, Verizon and AT&T-powered fire communicators, continue to exhibit strong sales growth. StarLink Fire, with its extensive line of sole-path and dual-path fire communicators represent among the most complete assortment of fire communication solutions in the category.
"Revenues associated with our innovative FireLink, all-in-one, 8-32 zone fire alarm control panel with a built-in cellular StarLink-powered LTE alarm communicator, continue to grow. FireLink comes pre-configured and pre-activated, saving considerable installation time and money for the fire dealer to replace a legacy landline-connected fire panel and will become an incremental recurring service revenue contributor to our extensive array of alarm communication solutions.
"Our StarLink Connect, the IoT cellular communicator, continues to grow. This RSR-generating product solution, gives alarm dealers the ability to easily upgrade the existing tens of millions of regular alarm systems currently installed across the U.S., into advanced, smart home systems. This upgrade enables consumers to remotely operate their security systems, video doorbells, lighting, locks, thermostats, and video cameras, from any smart device. StarLink Connect provides Napco and its dealers with a strong, incremental RSR growth opportunity as well as also capitalizing on the opportunity to generate additional income from a large base of current regular alarm end-user consumers.
"Looking to the future and our plan to continue to accelerate RSR growth, Napco will be leveraging its StarLink cellular communication technology into additional product categories it competes in, such as wireless electronic locks and enterprise access control. This unique capability of our Company should provide an innovative, incremental subscription and cloud based income stream from large market segments, providing valuable new services to end-user customers.
"Additionally, our Company is proud to play an important leadership role in keeping our K-12 schools, universities and colleges safe, across the country. Napco continues to train a multitude of dealers, integrators and school personnel on the use of its proprietary, School Access-control Vulnerability Index ("SAVI") and audit system. The SAVI audit measures a facility's holistic security level and provides a quantitative grade, in the form of an index, which subsequently leads to an action plan on improving the school's preparedness level, that security dealers and school officials can utilize to remedy the deficiencies. Our integrated line of education-focused security solutions, including our advanced wireless locking, access control solutions and intruder locks, marketed by our Alarm Lock, Marks and Continental Access Control Divisions and our advanced intrusion alarm systems and alarm communicators, from our Napco Division, continue to perform well.
We are encouraged by our solid Q1 performance and are confident we have built an exceptional business model that should propel future sales growth. The Company will continue to drive engineering and marketing investment into high-growth markets with high recurring service revenue and gross margin opportunities. We look forward to a promising performance for Fiscal 2020."
---
This article originally appeared on our sister publication Security Sales & Integration's website.
If you enjoyed this article and want to receive more valuable industry content like this, click here to sign up for our digital newsletters!