NAPCO Security Technologies has announced results for its first quarter of fiscal 2023.
The company reports net sales for the quarter increased 27% to a Q1 record of $39.5 million as compared to $31.1 million for the same period last year.
Recurring service revenue for the quarter increased 35% to $13.8 million as compared to $10.2 million for the same period last year. Recurring service revenue now has a prospective annual run rate of approximately $58 million based on October 2022 recurring revenues, according to the company.
Gross margin for recurring service revenue for the quarter was 88% as compared to 86% for the same period last year.
"Following a very strong sales performance in fiscal 2022, the momentum continued during the first quarter of fiscal 2023 with Q1 record sales of $39.5 million, a 27% increase over last year's Q1 and the eighth consecutive quarter of record year-over-year quarterly sales. Both equipment revenue and recurring service revenue, which increased 23% and 35%, respectively, contributed to the year-over-year overall sales growth," says Richard Soloway, chairman and president of NAPCO.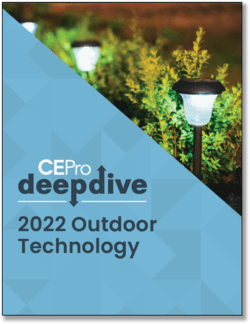 The 2023 CE Pro Outdoor Technology Deep Dive reveals unique set of impediments, including explaining pricing and interacting with outdoor-centric trades.
Get your copy now to take a "deep dive" into the trends and challenges of outdoor technology.
Download the report now!
"NAPCO executed exceptionally well in the first quarter, easily exceeding published street consensus estimates for Q1 on Revenue, Net Income, EPS and Adjusted EBITDA, despite ongoing challenges within our supply chains. We continue to remain focused on aggressively managing these logistical challenges, in order to ensure that we remain well positioned to meet the needs of our customers. We continue to manage these issues by re-engineering products, developing alternative, more readily available supply sources and delivery methods and continuing to work closely with our customers and suppliers to navigate through these extraordinary times."
Fiscal Numbers Look Good Across the Board
Taking a closer look at the figures, NAPCO says its net income for the quarter was $6.4 million as compared to $7.8 million for the same period a year ago. Net income for Q1 last year benefited from $3.9 million of "other" income as the result of extinguishment of debt.
Soloway points out the company's strategy to temporarily sacrifice hardware gross margin by purchasing components at higher prices in order to continue manufacturing radios has led to continued high margin recurring revenue for each radio installed and operating.
Moreover, Soloway emphasizes that NAPCO is working on a number of strategic activities, including the development of alternative sources for those micros that are in high demand and which are key components in its Starlink radios, and the company expects to see additional gross margin improvement from these activities within the next six months.
Adjusted EBITDA for the quarter was $8.3 million as compared to $4.7 million for the same period a year ago, a 77% increase.
"Our balance sheet continues to be very strong, with cash and cash equivalents, other investments and marketable securities of $44.4 million and no debt at September 30, 2022. We continue to leverage our strong balance sheet by purchasing difficult to get electronic components which, while resulting in a significant inventory increase, has also led to continued strong sales growth," adds Soloway.
"This reflects management's strategic decision to continue to invest resources in maximizing the production and sales of its cellular radios, which result in the highly profitable and continuous recurring revenue and which generated a gross margin of 88% in Q1."
NAPCO will be exhibiting at ISC East 2022 in New York Nov. 15-17. 
More news from NAPCO: NAPCO Touts Record-Breaking Growth in Q4 Report
This story first appeared on CE Pro sister publication's Security Sales' website