Security systems are intended to protect homes, property, and families from burglary, fire, vandalism, and other unsavory events. The M1 Control System from Elk is no exception, but it goes one step further by protecting itself against hacking and jamming attacks—the kind of cyber attacks that can cripple a security system.
Elk accomplishes this through the implementation of several technologies that make the M1 system virtually impenetrable to hackers, says Brian Esarove, senior design engineer at A.I. Home Automation, of Stockbridge, Ga.
"I spent countless hours trying to hack it when we first decided to carry the M1 system about three years ago, and it's impossible to do so, even with my IT background."
For A.I. Home Automation, the hack-free design of the M1 was just as important as its ability to safeguard the high-end residences it serves.
"We provide security to our customers at many levels; we are not just installing an intrusion system. We couldn't risk using a system that was vulnerable to hacking and jamming," says Esarove. "Just one system failure could be detrimental to our overall business."
So how does the M1 manage to defend itself? For starters, the system employs a two-way wireless mode of communication between the sensor and processor. This in and of itself makes the system harder to jam than systems that employ a one-way mode of communication, according to Esarove.
Furthermore, the transmission of information between sensors and system processor is encrypted, and the M1 scans and hops multiple frequency channels. "It would be nearly impossible to scan and lock onto all of those operating frequencies. Believe me, I tried," Esarove says.
Elk M1 Loaded With Anti-Hacking and Jamming Features
There's another benefit to the two-way communications infrastructure: reduction of false alarms. The M1 system is in constant communication with its connected sensors; it always knows exactly which windows and doors are open, for example.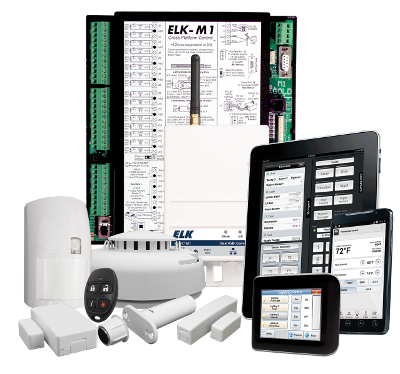 M1 alarm system from Elk is packed with
anti-hacking technology.
Consequently, the end-user is able to identify if an alarm condition is actually an emergency or not and call off the emergency responders if necessary. This prevents costly fines for false alarms.
"We install the Elk M1 system into the home of nearly every client and we've never had reports of a false alarm," Esarove comments. "The system is completely failsafe."
Another feature of the M1 that provides a layer of protection is its ability to use both IP and cellular protocols to communicate alarm conditions with central monitoring stations.
If the Wi-Fi network in the home is alive and kicking, it will use this route; if not, it the system communicates via cellular. It's extra assurance for the end-user and integrator of reliable protection for homes and businesses.
Other anti-hacking and jamming features built into the M1:
Communications for programming and IoT control utilize encryption methods used by financial institutions.
Longer encryption keys are required
Remote connectivity requires a valid serial number and access codes set by the installer.
Remote connectivity for IoT smart control requires valid user credentials: username, password and user code
If you enjoyed this article and want to receive more valuable industry content like this, click here to sign up for our digital newsletters!