When emergencies occur, every second counts. To provide commercial integrators of AtlasIED's IPX Series of products with an enhanced method of mass notification of life safety information, AtlasIED now offers Singlewire's InformaCast software.
A complement to AtlasIED's IPX platform of IP endpoints, InformaCast delivers audible and visual alerts to both on-premise and mobile devices to ensure that information concerning lockdowns, evacuations, intruders, live shooters, severe weather, and other critical situations reaches everyone quickly and reliably. Both IPX and InformaCast integrate seamlessly with existing VoIP and other traditional networks, enabling integrators to easily implement a complete emergency notification system within schools, healthcare facilities, and industrial environments.
As a distributor of the Singlewire InformaCast software, AtlasIED offers integrators and resellers the convenience of purchasing a complete life safety solution from a single source. Moreover, AtlasIED's Engineered Solutions & Services (ESS) department is available to assist integrators with the design and implementation of InformaCast and IPX for a comprehensive UC environment.
"As a natural extension of our IPX Series, the Singlewire InformaCast software helps integrators provide their commercial customers with an enhanced mass communications solution, with advanced emergency notification features," says AtlasIED VP of IP Endpoints Alex Puorro.
"The software amplifies the capabilities of not only IPX endpoints, but an entire communications network, making the IPX-InformaCast combination a great life safety addition for schools, industries, and healthcare facilities."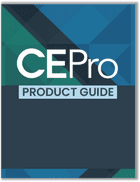 CE Pro's 2022 Product Guide showcases some of the latest and innovative solutions from manufacturers serving the custom electronics industry in a cross-section of categories.
Download the guide now!
More news from CE Pro: NBA Superstar James Harden Jumps into Smart-Home Business