Multifamily dwelling units are quickly adopting many IoT devices beyond smart locks, but those locks can be used as a way for integrators to get more involved in the resimercial and commercial markets.
For a while, residential integrators have recognized the potential of the multifamily dwelling unit (MDU) market, as it can act as a stepping stone for residential installers to begin light resimercial and commercial work. Now, Preston Grutzmacher, SALTO Systems' residential business leader for North America, has good news for those dealers and integrators: smart locks can translate into more business opportunities, and multifamily residential technology platforms are driving exponential adoption.
"There's no doubt that smart lock adoption in the residential multifamily market is growing," he reports. "Any dealer looking to enter the multifamily market from traditional commercial markets should keep an open mind to the solutions they install and recommend. Many commercial and industrial customers have strict requirements that may not apply or be within the budgets of multifamily developers and operators."
Grutzmacher is also seeing a significant difference in the technology and software platforms used in commercial/industrial markets vs. the multifamily residential market.
Multifamily residents are becoming more and more connected, he notes, which means any modern lock solution a building provides should include access via smartphones and other technology that residents are already using elsewhere in their everyday lives. And while it's true that smart locks and their capabilities are continually improving, one of the biggest changes in his view has happened at the software level.
"The residential technology ecosystem has had incredible growth, spearheaded by software and integrations that make smart locks and other IoT devices better than what they could have been on their own. Smart locks can now be value-add enhancements and components of larger systems. Integrations with building management systems, HVAC, lighting and the like provide owners and management with the opportunity to improve operations and maximize efficiency."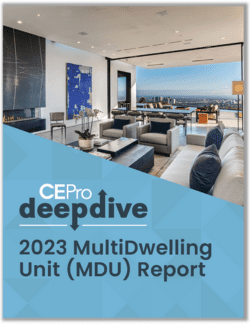 Discover why MultiDwelling Units (MDUs) have major appeal for custom integrators and what they're doing to address this market.
Ecosystem Integration Intices MDU, Residential AV Customers
According to Grutzmacher, one of the most beneficial advantages of today's smart lock offerings that are enticing residential adopters is ecosystem integration.
"Smart locks are great but on their own, they're a separate system. The best smart locks are enhanced when they can be freely integrated into a variety of leading residential ecosystem platforms, adapted to every possible door type onsite, and provide a consistent user experience regardless of which door is accessed."
Multifamily operators are adopting a variety of IoT devices beyond smart locks including, leak detection, lighting, voice assistants, thermostats, camera platforms and video intercoms. Grutzmacher says it's all but guaranteed that new technologies will emerge and IoT devices will improve over the coming years. He also envisions increasingly more building operators providing mobile credentials that are easier to distribute and manage across multiple users and devices. As for now, Grutzmacher says, "It's a great time to be a dealer!"
---
Erin Harrington has 20+ years of editorial, marketing and PR experience within the security industry. Contact her at erinharrington1115@gmail.com.
A version of this article originally appeared on our sister publication Security Sales & Integration's website.
If you enjoyed this article and want to receive more valuable industry content like this, click here to sign up for our digital newsletters!