With CEDIA Expo 2021 quickly approaching, CE Pro has set out to connect with manufacturers attending the show to give integrators a preview of what to expect while in Indy. To that effect, we recently reached out to IP access control provider 2N to find out what integrators can look forward to seeing at its booth.
Tell us what you have on tap for CEDIA Expo in terms of both education and on the exhibit floor?
At the 2N booth, we are offering IP intercom and access control product demonstrations and overviews
We will be promoting our 2N Academy, offering free online training courses which can be found here.
What are you most looking forward to about getting back together in person?
We are looking forward to networking in person, meeting new friends and seeing friends we haven't seen in some time. We are also excited to showcase our products in person and let integrators and customers touch and demo our products.
What is the one question dealers should ask when they come to your booth?
Show me the new 2N IP Style intercom with WaveKey technology! You have to see this gorgeous and innovative IP intercom with a 10-inch full-screen glass display panel in person!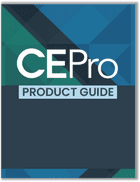 CE Pro's 2022 Product Guide showcases some of the latest and innovative solutions from manufacturers serving the custom electronics industry in a cross-section of categories.
Download the guide now!
What is your booth number?
Our booth number is #4809.
CEDIA Expo attendees looking to learn more about 2N and its offerings during the show should check out the company's listing here. Integrators interested in signing up for CEDIA Expo 2021 still have time, and can sign up directly via the CEDIA Expo website.