It may not be 1776, but there's definitely a momentous revolution taking place in 2022 that represents a paradigm shift in access control. The advent of Access Control as a Service (ACaaS) in the new Napco AirAccess system enables integrators to quickly deploy modular cloud-based access control systems that open up an entirely new market of commercial clients that previously were not prime targets for access control due to costs.
Just ask integrator Zac Grappa, vice president of operations at Grappa Security Solutions in Waupun, Wis. The company specializes in access control solutions for schools and other small businesses.
"Access control has been a key part of our business," he says. "AirAccess is filling a niche for us that will be useful as we move forward. It provides a cloud-based way that we can offer our customers the ability to have a card access system set up with very little commitment from them upfront. They don't need to provide a server because it is cloud-based. They don't even have to have an existing network because it uses a cellular communicator."
Grappa says the company has successfully presented AirAccess to a doctor's office, dog care facility, church and school.  
"Those types of customers that benefit from not having to have network expertise, expenditure on a server, and maintenance costs makes it really appealing," adds Grappa.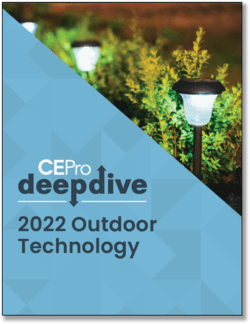 The 2023 CE Pro Outdoor Technology Deep Dive reveals unique set of impediments, including explaining pricing and interacting with outdoor-centric trades.
Get your copy now to take a "deep dive" into the trends and challenges of outdoor technology.
Download the report now!
Rob Etmans, business development manager at Napco, explains that AirAccess is based on proven technologies.
"Napco AirAccess is a cellular-based access control system. It is very modular. It uses our wireless locks and it can use a hardwired door. It uses the Napco Starlink cellular communicator, which is a well-proven device that we use currently on our burg and fire solutions. We host AirAccess on our Network Operations Center (NOC). That allows the customer to have a modular system where they either don't have a network or don't want to use their network infrastructure for their access control."
With the introduction of AirAccess, CE Pro's sister publication Security Sales & Integration introduced its first-ever SSI Security+ Product Review. This exciting and unique new platform spotlights recent product introductions into integrator channel. Each edition provides basics from a manufacturer representative along with more detailed insights from an installing pro who has successfully deployed the offering for an end customer.
AirAccess was a 2021 SSI Top 30 Technologies award winner, when Tech Talk columnist Bob Dolph noted, "Now one can quickly configure and deploy a scalable wireless access system with an easy cell communicator and gateway to wireless locks or panels or panel Wiegand readers. The system is plug-n-play with little training and no tech specialist required, and it's the right size for the largest segment of today's commercial market: small- and medium-sized businesses."
AirAccess teams NAPCO's access knowhow with its most popular security technologies. That includes the leading cellular communications of StarLink
alarm radios and the top wireless access control capability of its Alarm Lock division's Trilogy Networx wireless access control PIN/prox locks, or Net-Panel, used with HID readers for a truly scalable, revolutionarily easy-to-use, self-configurable access solution.
To fully grasp this impactful product, the video explains what AirAccess is; how to set it up and its many benefits; what to expect during the installation
process; ways to sell the solution and the advantages it brings end customers; and finally how NAPCO stands behind the product with deep tools, support and guidance. View the video above.
If you enjoyed this article and want to receive more valuable industry content like this, click here to sign up for our digital newsletters!