Signage and Conferencing Lead Resimercial Opportunities
Tom Leblanc, director of industry outreach and media channels for the NSCA, led a panel that included Aaron Cowden and David Phelps on the growing resimercial market.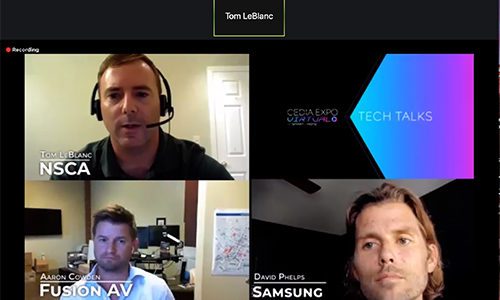 Resimercial is a relatively newly minted term to describe the crossover of residential dealers into the commercial industry, and a just completed CEDIA Expo panel moderated by a veteran of both markets laid out some more refined parameters of this emerging category.
Tom Leblanc, director of industry outreach and media channels for the National Systems Contractors Association (NSCA), and a former editorial staff member of CE Pro and CE Pro's sister publication Commercial Integrator, led a discussion with Aaron Cowden of Fusion AV and David Phelps, director smart signage product marketing, Samsung.
Highlighting the expert trio's live CEDIA Expo presentation, Leblanc, Cowden and Phelps discussed some of the elements that separate the residential market from the commercial market.
Phelps noted that it is important for dealers to get proper training and to follow proper procedures in order to maintain guidelines such as the handling of displays. He also pointed out the distance requirements and gaps between displays in video wall systems. Phelps said these installation elements will become second nature after gaining some experience performing the installations.
Diversification Defines Resimercial Market
Underscoring the crossover between the markets Phelps commented on how residential integrators are growing their product portfolios by expanding into LED screens after installing Samsung's the Wall in residential environments.
Pushing the discussion in other areas of the resimercial market, Leblanc asked the panel about the work from home (WFH) opportunities that have been presented to the residential electronics industry.
Commenting on Leblanc's question, Phelps had an interesting response that reflects how people have spent their time at home.
"Since early March, [we've experienced] explosive sales [on the consumer retail side of the business]. People are home … there is extra disposable income. The amount of time we've spent from home has been greater than anticipated. On the investment on work from home, it's been less than anticipated such as interactive white boards, large format displays for their walls," emphasized Phelps.
"So, the investment has gone into computer monitor and family pieces such as upgrading the family TV and even outdoor televisions."
Cowden said that his company tried to market to its clientele, but Fusion AV found its customers didn't want enterprise-grade AV in the home.
His experience Cowden continued is that part of the issue that Fusion AV encountered is due to consumer expectation and the public's desire for low-margin, entry-level solutions. He did mention that his company did do well through other opportunities.
"We see opportunities of selling outdoor TVs and landscape audio systems. Another segment we've been growing is home health," admitted Cowden.
"We haven't seen the trickle down of enterprise grade equipment. The one thing is we are selling more enterprise-grade networks."
Emphasizing one of the major themes of resimercial installations and the ability of integration firms to work in both the residential and commercial markets, Cowden said being able to work in both industries provides his company with a stable revenue stream.
"It's been huge for us. As the residential and commercial markets ebb and flow individually. We share our tech support … so you have an opportunity to keep your teams busy. Many of our residential customers work somewhere they have businesses, stated Cowden.
"They need these solutions and it's low hanging fruit. Light commercial is interesting. These businesses grow and we've had some small businesses growing into medium-sized businesses. We are learning about video walls."
Moving onto some of the challenges an integrator that works in both markets will find, Cowden commented that working within the scheduling guidelines that's expected of a commercial integrator is something integrators have to work through. He also pointed to other things such as getting the proper working licenses and obtaining the specific insurance policies the commercial industry mandates.
One other interesting difference added Cowden is figuring out when to specify a commercial product and when to specify consumer products.
Closing out the webinar Phelps pointed out that right now people are using basic products, but ideally users will get back to using solutions such true digital signage systems that include the recurring revenues.
As the resimercial market continues to develop, Phelps foresees opportunities for integrators to sell telecommunications systems and huddle spaces because there's a trend developing where corporations want larger huddle room display screen sizes to expand the footprint of these huddle space rooms.