Savant is leaping into the Work From Home space by integrating with Zoom's audio/video conferencing platform, Zoom Rooms.
As part of Savant's smart living ecosystem, the company says users will enjoy a more productive video conferencing environment and will be able to personalize the meeting experience.
With Savant's Zoom Rooms integration, a Savant Scene and applicable audio/video services can automatically launch each time a meeting is started. For example, at the start of each meeting, lights can dim or brighten based on time of day, shades can be adjusted, background audio can be paused and more—all seamlessly part of beginning a Zoom meeting. And once the conference has concluded, Savant will return the room to its prior state, automatically restarting music or other programming that had been paused for the meeting.
In addition to Savant Scene integration, Savant's dedicated Zoom Rooms integration has been designed to deliver high quality video and audio, leveraging the clarity of a big-screen TV and high-performance loudspeakers, along with a variety of cameras and microphone packages from Savant Recommended Partners such as Logitech, Huddly and Beyerdynamic.
"This month, we have added the ability to showcase the Savant and Zoom Rooms integration inside Savant's Virtual Experience Center, which can showcase both a home office environment as well as a larger, commercially scaled deployment," explains Ian Roberts, director of education & customer experience, Savant.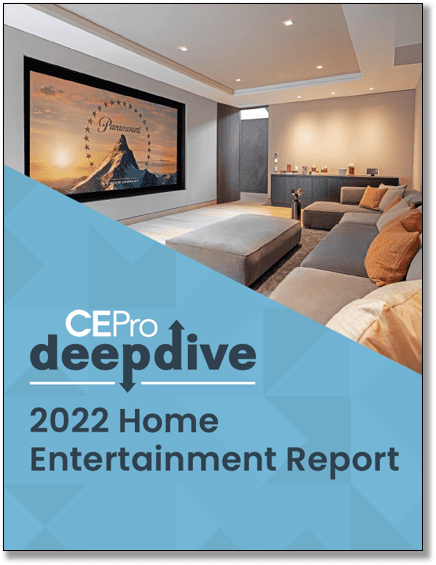 The home entertainment category is especially susceptible to the supply chain crisis because there are so many individual components required. Despite that ongoing problem, the once-forgotten "home theater" category continued its strong comeback in 2021 likely driven by the ongoing house-bound public due to the COVID-19 pandemic.
Download your copy today!
"One useful feature we included in the office setting is the full-color, DMX light strip we installed behind the home office display that we set to automatically glow red as a visual reminder whenever the Zoom Rooms user has audio set to mute. Innovative ideas like this will enhance the conferencing experience while creating opportunities for Savant integrators."
According to Savant, the Zoom Rooms conferencing solution numerous important applications beyond the home office. Savant emphasizes the technology can be a valuable tool to enhance the remote education experience, helping students better engage with instructors through a more visceral, lifelike experience. Gathering with family and friends will become easier and more comfortable using a wide angle camera, high-quality speakers and a large, high-resolution video display.