The challenge set forth to integrator Harrison Home Systems was to help family-focused multinational business owners utilize technology to easily manage a second home where their children and grandchildren live in Colorado.
To help accomplish the task, Harrison Home Systems specified a Savant system to control 13 video zones, nine video sources, 18 audio zones, 18 surveillance cameras, eight climate zones, a Dolby Atmos 7.1.4 home theater featuring Savant Tiling, motorized shades, lighting and security — which, as Harrison notes, can be accessible remotely from wherever the owners happen to be at the moment.
"They wanted a luxurious respite they could leave anytime, for days or months. We provided 1) simple control from anywhere;
2) beautiful integration with design; and 3) entertainment for the whole family," says Harrison Home Systems' Kassa Harrison of the integrator's artful mix of technology with the owners' Japanese-themed décor.
Custom scenes triggered by arming or disarming the security system allow the homeowners to rest easy and save energy when the home is unoccupied for days or months at a time, she adds.
"We programmed extensive home management features upon activation/deactivation of the security system allowing control over water features, radiant in-floor heating, and the water heater to save money and energy when the home is unoccupied," Harrison explains.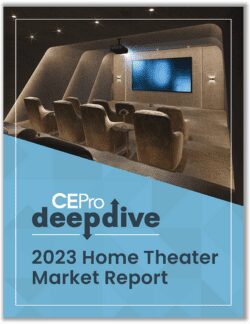 Discover where the home theater market stands now that the pandemic is over, and the emerging trends integrators are seeing in the industry today.
Motorized Lutron Sivoia shades cover 110 floor-to-ceiling windows and disappear into recessed in-ceiling pockets when open. The lighting control system, consisting of 169 lighting loads, makes the most of the many elements including beautiful backlit stone in several spots. Shade and lighting control is available through 61 in-wall keypads.
Collaboration with Builders, Architects, and Designers Pays Off
To maintain the design integrity, Harrison Home Systems collaborated with Montare Builders, KGA Studio Architects and interior designer Mandil to blend in the technology everywhere, even in the home theater, in which the integrator also delivered on the owners' need to add video conferencing capabilities.
"We designed concealed TVs, recessed in-ceiling shade pockets, centralized AV, custom- made TV soundbars, and lighting and shade control via Lutron Palladiom keypads to reduce wall clutter," Harrison says.
Other details that highlight Harrison's specialized work on this massive project include mobile device access control for the property gate and knob-less front door for service or deliveries. Additionally, the integrator maintains peace of mind for the busy homeowners by keeping tabs on the wide-ranging technology no matter whether they are home or away for extended periods.
"We pride ourselves on listening to our clients and establishing long-term relationships," Harrison says. "We proactively monitor the home remotely, diagnosing and reboot- ing devices often before the homeowner even knows there is a problem. With 24×7 remote support, the homeowner enjoys a truly first-class experience."
If you enjoyed this article and want to receive more valuable industry content like this, click here to sign up for our digital newsletters!