After living with spastic paraplegia all his life, Jason Price had wanted to create a home where it really felt like his home. A professional in the disability field, he had some resources that could help him get started, but he still needed a company that could bring his idea of a accessibility-focused smart home to fruition. Eventually, he came to settle on Crestron as the control system of choice before being introduced to Isaac Rosario, VP and Lead Programmer of Voyager Home Systems (Oklahoma).
From there, Rosario and his team set about automating and connecting nearly every single process in the house, from the lights to the door locks to the shower all the way down to the doors themselves. He also set about connecting the entire control system to be centralized on an iPad connected to Price's chair, so he could control any aspect of the home no matter where he was located.
"I think we've set a new bar for what accessible living can be like," says Price. "Think about this: even people that don't have severe disabilities are going to age. They're going to need more access as their life continues, so home access, I think, is something that's going to be very important in the future."
"Normally in the houses we do for high-end residential, it's more of going in and filling up the house with as much automation moreso because they need it, they have to have it," Rosario notes. "We've done some mobility stuff before, but this was the first time we've gone into an entire job thinking everything has a purpose."
Every aspect of the project needed to be researched to understand how they worked, not just for Voyager, but for Price as well.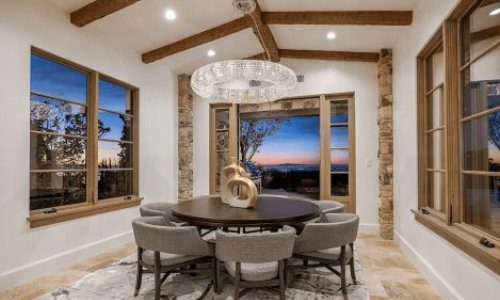 As a custom integrator, lighting is in demand. Effective communication, education and showcasing the value proposition of LED light fixtures in conjunction with integrative control systems are the keys to overcoming challenges and closing sales in this specialized market. Join us as we discuss the future of digital lighting and control with David Warfel from Light Can Help You and Patrick Laidlaw and Mark Moody from AiSPIRE.
Register Now! 
RF Transmitters and Ingenuity Enable Motorized Smart Doors
Perhaps one of the most challenging aspects according to Rosario were the door systems. As Price noted, it was very difficult during the project to find a company that was doing automated interior doors and supported integration into a smart home system. That was a big sticking point for the request: the doors needed to look like residential doors. No giant button that needed to be pressed to open them.
"Several times I though we were at an impasse on a few things, but never once did Rosario say 'I agree with you, we can't get this done,'" says Price. "He always said, 'Not only are we going to get this done, we're going to get it done pretty simply.'"
Instead, Rosario got crafty, back end engineering a solution that would allow Price to remote access control the doors through Crestron. Contact loader wiring and plenty of Crestron wireless pieces got the job done quickly and effectively.
"We ordered a lot of what were basically RF transmitters to hook them up to my system so that, from my system, we could toggle each door independently. Then we could tie it into a control system to allow him to do just that [open doors]. So, on his iPad, he has a button for the front door, side door and such to where he can just toggle certain doors at a time."
Seamless Service Provides the Backbone for the Accessible Smart Home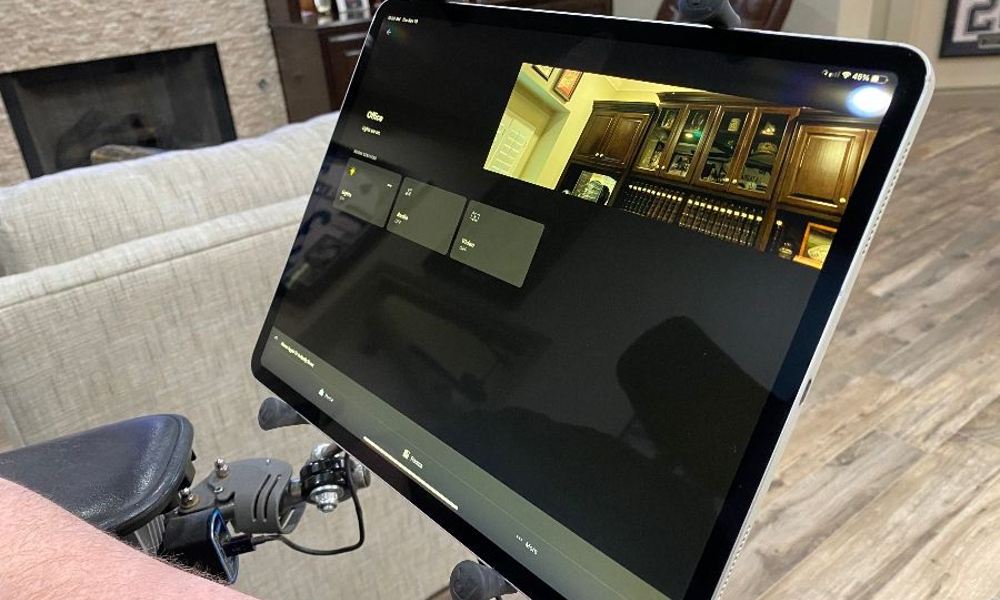 Tying everything back to the iPad was the next big step, and perhaps the one that Rosario had the most fun with, being the first time he and his team needed to take a step back and look at everything. "It was no longer a throw all the money at it and make it cool type of thing," as he puts it.
In fact, it's a lot more difficult to find parts of the home that aren't integrated into the iPad. Everything that had the capacity to be automated and controlled remotely was, from the doors to the lights to even the shower. Everything was made to be controllable from the house and on the go, with Rosario being able to make on-the-fly changes as necessary thanks to the new Crestron Home System the team used.
Of course, with such a heavy emphasis on connectivity and wireless communication, Rosario and Voyager needed to ensure that everything worked seamlessly. Selecting the internet was the first step, monitoring and ensuring that it stayed running was the next, and Voyager continues to provide these services for Price, notifying him of any potential outages, before Price notices it himself.
"I live in a world that was designed for people who walk, so I always have to look at it from a different perspective, but now, when I'm home, I feel like I'm finally in a place that was designed for me," Price says.
If you want to hear more on how Rosario and Price tackled this project, listen to the DesignWell365 podcast for the subject, as they discuss the methods, inspirations and more with exclusive guests.
---
Nick Boever is the managing editor of DesignWELL365. This article originally appeared on our sister publication DesignWELL365's website.
If you enjoyed this article and want to receive more valuable industry content like this, click here to sign up for our digital newsletters!