Jason Voorhees, founder of the integration firm Cantara, makes it clear that winning a pair of 2020 CEDIA Awards for a project dubbed the "Dual Hidden Projection Media Room" was no easy feat.
"What we do is hard. It's really hard. And this was no exception," he says. "This project was actually a change order."
The original scope of work included a fully integrated home built for parties at a moment's notice, and part of that was a dual-display rig in the main living area of the homeowner's condo.
"The sales team was talking to the homeowner and designer and asked 'So what do you want the space to be? And how are we going to hide the 65-inch TVs?' And that's when the whole story came out from the owner that she would really just like to have the best Oscars red carpet party the world has ever seen" says Voorhees.
"It became immediately apparent that a pair of flat-panel displays hidden behind some panels wouldn't cut it."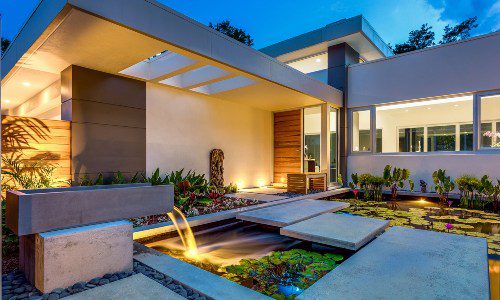 Landscape and architectural lighting create a magical and elegant ambiance for homeowners. The outdoor lighting industry has always been a phenomenal one and continues to grow in popularity. Now is the ideal time to learn more about this rapidly growing and highly profitable industry. Join our panel of esteemed lighting experts that will dive into why it's time for integrators to rethink their role in the outdoor lighting industry.
Register Now! 
Getting Help From the Manufacturers
The client, he notes, is "just so fun and full of life – and has the wealth, and knows how to spend it. And this whole project was about just creating a wild place to entertain and have friends over, and make memories, and go over the top. I mean, that was part of the mission of the project: more, more, more."
A big part of that "more, more, more" is a pair of very bright Barco projectors – which weren't even in production at the outset. "Barco tells us 'We've got one on planet Earth that is currently in Australia. And we'll ship it to Los Angeles. They sent this alpha unit to Stewart Filmscreen, and they get it set up. Client comes in, and client loves it."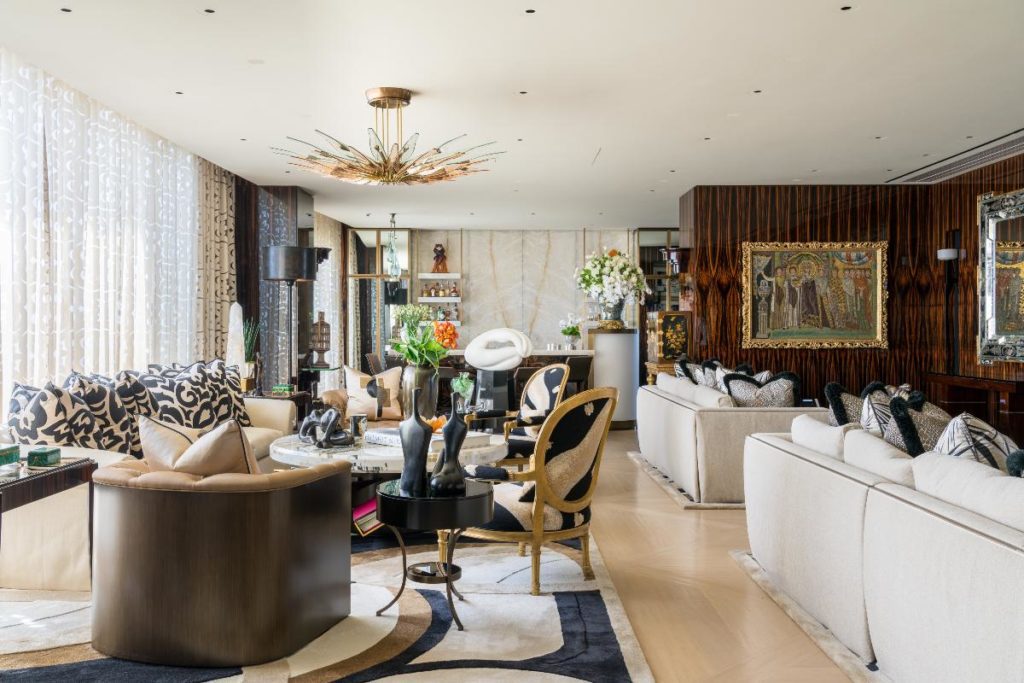 To keep the projectors hidden away in the ceiling, Cantara contracted with a company that created a drop-down mirror system that folded out of the ceiling.
"They shipped the mechanisms without the mirrors installed – which made sense at the time – and between installation before drywall went up and the moment we're ready to install those mirrors, the firm went out of business. Stewart came to the rescue again – and managed to get us the mirrors we needed," says Voorhees.
Several days of manual monkeying later, and the team managed to get the geometry perfect to deliver an image correctly.
Audio Mania Solved by Cantara
Voorhees and his team next had to ensure that the audio could accomplish what the homeowner wanted – namely, multiple sources that synced with each screen (that can display separate content feeds) and a microphone rig. Voorhees describes the setup: "She has a piano, and right by the piano, there's a little wall plate, and we've furnished them with a whole little 'go-bag' of different things. You can have your streaming service playing house-wide, and you can grab one of the wireless mics, turn it on, and start talking. The system will automatically duck the house music.
"It's the same deal if you plug in a DJ mixing console or something — it'll recognize what's going on and what the intention of the homeowner is. And then after a couple of seconds, if no one's talking, the music will come back up."
You can, of course, dedicate the home system to a live performance that includes the mic and piano (and in the interests of preserving the homeowner's anonymity, we won't reveal who's played and sung at this home – but they're definitely acts you'd recognize). 
The work yielded Cantara a number of nods in the 2020 Americas CEDIA Awards; wins in the Best Innovative System and Solution and Media Room, Level II categories; and a 'Highly Commended' honor for the entire residence (Best Integrated Home, Level IV).
Those trophies help Voorhees to keep his team motivated. "It's a wonderful thing to have our employees pause for a moment and get some perspective on the fact that this is as good as it gets in the industry. And they're on a winning team. The work is really difficult, but it's special work — and their peers recognize it as being special work."
If you enjoyed this article and want to receive more valuable industry content like this, click here to sign up for our digital newsletters!