At the new 230 unit Midnight mixed-use complex in Canberra, Australia, real estate developer Geocon has taken a step toward more technologically integrated apartments by outfitting all units with at least two ceiling-mounted speakers and a wireless streaming amplifier.
According to the installation team at Integreat Electronics, this project comes just as Australian homebuyers and renters are beginning to place more value and importance on a home's connected technologies.
"When purchaser evenings were held, there was considerable interest in the sound section," says Lachlan Freeth, managing director of Integreat Electronics.
"Besides the fact that there aren't really any competing apartments in Canberra with integrated audio systems, Geocon had frequently focused on the premium-quality SpeakerCraft audio in its marketing materials. They do a good job of creating unique, targeted developments, and one of today's top trends is individuals and families that want their home to be as digitally connected as they are."
By combining a pair of SpeakerCraft's Profile A6 in-ceiling speakers with a wireless streaming amplifier, 224 of the apartments enable residents to use their mobile devices to control the amplifier and connect it to all of their favorite music streaming services.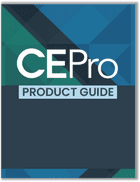 CE Pro's 2022 Product Guide showcases some of the latest and innovative solutions from manufacturers serving the custom electronics industry in a cross-section of categories.
Download the guide now!
The six top-floor penthouses feature an expanded multi-zone audio system in three rooms, using three pairs of SpeakerCraft Profile A6 speakers and a multi-zone streaming amplifier.
Through its partnership with Avation, the Australian custom electronics distributor that provided the speakers, Integreat Electronics has access to all sorts of equipment and brands that consumers can't purchase off the shelf.
Teaching Homeowners New Technology
Instead of simply installing the new audio system and calling it a day, Integreat Electronics decided to stick around and teach new residents how to use their brand new pieces of technology.
"With 224 apartments, it made sense for us to hand over the amplifiers in person rather than leaving them installed in unoccupied units for weeks or months," says Freeth.
"We're also going to host short demos to help residents set up their amplifier. These meetings allow us to talk with the new owners about any other technologies they may be interested in, including expanding the audio system to a multi-zone solution."
In addition to connecting with all of today's most popular streaming music services, the standard inclusion audio system at Midnight can connect to residents' TVs, providing an improved TV and movie-watching experience.