Anyone that knows me knows I love Apple. At work I use a MacBook Pro, at home my family and I use Apple Computers, Apple iPads, iPhones and Apple Watches.
Apple even helps provide family entertainment with several generations of Apple TVs floating around the house, including a 4K Apple TV.
However, after installing and living with Roku's new $40 Premiere streaming player I would be hard pressed to consider purchasing a next-generation Apple TV product due to the Roku's cost, usability, and overall performance.
Roku Features and Setup
First, I'd like to point out that unlike other small streaming devices, the Premiere is bigger than say a USB stick with an HDMI dongle.
Though slightly larger, the Premiere can be hidden behind a TV without much fuss. Shipping with a power supply and HDMI cable, the streaming device provides 4K video with HDR compatibility.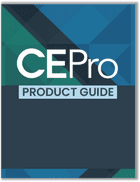 CE Pro's 2022 Product Guide showcases some of the latest and innovative solutions from manufacturers serving the custom electronics industry in a cross-section of categories.
Download the guide now!
Features
4K and HDR compatibility

Wireless 802.11 b/g/n connectivity

Dolby and DTS surround sound
Proprietary Roku GUI interface
Roku OS 9 includes voice search, automatic volume leveling and Spotify
Companion Roku mobile app offers control capabilities
Roku offers several popular video streaming services including Netflix, Hulu, YouTube, MLB, Showtime, the CW Network, Sling Television, CBS All Access and its own Roku Channel. It also includes music streaming options via Spotify and Pandora.
Internally, the Premiere utilizes a quad-core processor and its wireless connectivity works with the 802.11b/g/n networking technologies.
Setting up the Premiere, for the most part, was quick and pain-free.
I connected the supplied power adapter and HDMI cable to the Premiere and ran the other end of the HDMI cable into a 19-inch Samsung TV mounted to my kitchen wall.
Firing up the Premiere, it quickly prompts you to choose a network and to enter that network's password using the companion remote control. After scanning and selecting a network several times, I gave up and moved onto another TV in my home that coincidentally had been giving me problems with its smart services.
Plugging the Premiere into one of my Vizio 43-inch TV's HDMI inputs, I followed the same procedures and was able to place the Roku on my network.
Related: Roku's Cheapest Streamers Ever – 4K Roku Premiere and Premiere+ with Voice Remote Start at $39
This experience indicates to me the wireless capabilities of the Premiere may not be as robust as say an Amazon Fire Stick. The Vizio is located closer to my access point so the Premiere had no problem connecting.
Roku also asks for a resolution to be chosen, as well as refresh rate. Using the setup option's auto-sensing mode it correctly identified the 1080p HDMI compatibility of my television (I unsuccessfully tried to select a 4K resolution to see if I could trick the auto detection mode).
Next, I created a Roku account and selected the services I subscribe to such as Netflix, Amazon Instant Video, and HBO Now.
Speaking of Amazon, I found the Roku setup process easier than my Fire Stick, which I retired about a year ago (I don't know if Amazon has updated its setup and GUIs), and it is comparable in terms of ease and speed with my 4K Apple TV.
Performance and Final Thoughts
As an Apple guy, it's tough to admit it, but I have to give credit where credit is due—the Roku Premiere is a killer streaming product. Throw in its cost and it's an absolute steal of a deal.
I started by watching the third season of Man in a High Castle from Amazon Instant Video.
Normally my 11-year-old son and my wife choose to use their smart devices or the built-in Netflix app Dish incorporates into its set-top boxes (STBs). I find both of them now using the Roku, which I think is a testament to the product's overall usability.
While I was able to stream without any issues, I did think the image was a bit on the dark side. For comparison purposes, I plugged the Roku unit into the Vizio's lone HDMI 2.0 input and not only did the auto detect function correctly identify the input capabilities, but it also delivered a much clearer and brighter image.
Roku also includes interface skins users can download for free (more elaborate ones are available for purchase).
After using the remote on a regular basis, I found it easy to use but not quite as intuitive as the Apple TV remote. Where Roku really separates itself from Apple in terms of interface is in its optional app, which I am using on an iPhone 8. The Roku app is easy to navigate and reliable. Reliable is not a word people use when discussing the Apple Remote app.
The Roku Channel offers a wide selection of content, including familiar titles like Rocky III.
Watching content from both Netflix and HBO, including the newly introduced first episode of the third season of True Detective, I thought the images looked good. I feel like the issues I had with Man in a High Castle had to do with the way the show was produced. I generally thought the images were bright and detailed and no different looking than any other streaming device.
What really confirmed to me how good the Premiere is how often my family is using the Premiere to stream content.
Normally my 11-year-old son and my wife choose to use their smart devices or the built-in Netflix app Dish incorporates into its set-top boxes (STBs). I find both of them now using the Roku, which I think is a testament to the product's overall usability.
My only bit of apprehension with the device is related to connectivity issues, as some may not be able to use it due to spotty network connections. Those without connection issues will find the Premiere to offer a user experience that's on the same level as streaming products costing three or four times more, including the 4K Apple TV.
I could also see dealers having a few Premieres on hand to solve any sort of streaming issues their clients may encounter, including smart TVs that are no longer providing smart functionality. Rather than replacing a TV, integrators could connect this inexpensive product as a customer care problem solver and handle the rest of the client support without asking a client to buy a new TV.
Depending on the situation, the Premiere could ease a lot of brewing customer tension.
CE Pro Verdict

Pros:

Small size enables the Roku premiere to easily hide behind TVs

Easy to use interface and setup process

Nice Image quality, especially when using HDMI 2.0 inputs

Cons:

Wireless connectivity could be better

Image quality a bit dark when using HDMI 1.4 inputs