Trinnov Audio Launches Crestron Home Driver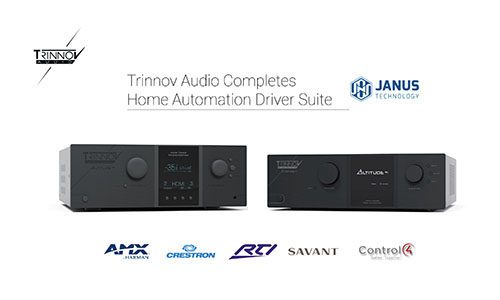 Trinnov has completed it's line up of home automation drivers with the release of the fully certified Crestron Home driver by our partner Janus Technology. This driver is available free of charge from both the Crestron and Janus TechnologyDealer Portals.
Trinnov Audio, a global manufacturer of immersive audio processing has furthered its automation support by adding Crestron Home to its line up of automation drivers. Crestron Home is fast being adopted by automation dealers and provides a simplified, but no less powerful, alternative to the full Crestron platform. This broadens its appeal to dealers by providing a quicker programming platform that's easier to modify making it ideally suited to single room solutions, such as home theatres, or as part of a whole home control solution. 
"We were pleased to be chosen by Trinnov Audio to develop their latest integration for Crestron Home," says Richard Caton, owner, Janus Technology.
"The solution we developed provides a simple integration of Trinnov into the standard AVR interface in Crestron Home, and complements this with an extension driver, allowing the end user more bespoke control of the powerful advanced features available in the Altitude platform such as Preset and advanced Sound mode functionality. We look forward to working with Trinnov and supporting their dealers with their integrations, and extending the capabilities our drivers as the Altitude platform and Crestron Home evolve."
This driver completes the lineup, for all the major control systems, with drivers available for:
Crestron/Crestron Home
Control4
RTI
Elan
AMX
Savant (inhouse)
More news from Trinnov Audio: Trinnov Covers 2021 Updates for Altitude Platform