SignalBoosters.com/SureCall
Fusion4Home Yagi Dome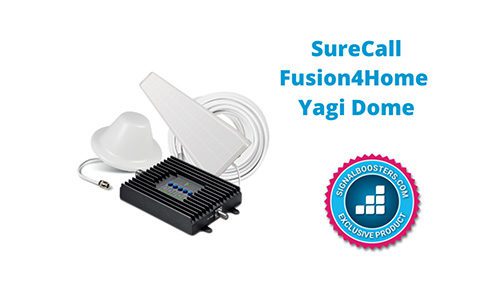 Designed for use in either home or office environments, the new SureCall Fusion4Home Yagi Dome cellphone booster kits are now available from Signalboosters.com.
SignalBoosters.com says its Yagi Dome cellphone signal boosters are capable of covering up to 4,000-square feet, and the new kit is the result of an exclusive partnership with SureCall.
The FCC-approved kit is designed to amplify cellphone signals by capturing and enhancing existing cellphone signals.
According to SignalBoosters.com, the Yagi Dome cellphone booster kit delivers up to 72dB of signal gain depending on the signal and environmental building conditions. It improves 3G/4K/LTE signals for all U.S. carriers and cellphone types.
In addition, the company adds that its new cellphone booster kit provides integrators with the ability to manually adjust signal bands.
SignalBoosters.com provides a 60-day money back guarantee, and the company backs it with a three-year warranty.
More cellphone booster news from CE Pro: SureCall CEO Talks Cell Service Impact, 5G Booster Status
Product Info:
Product Name:
Fusion4Home Yagi Dome
Manufacturer:
SignalBoosters.com/SureCall
MSRP:
$399