SunBriteTV
Pro 2 Series of 4K Outdoor Televisions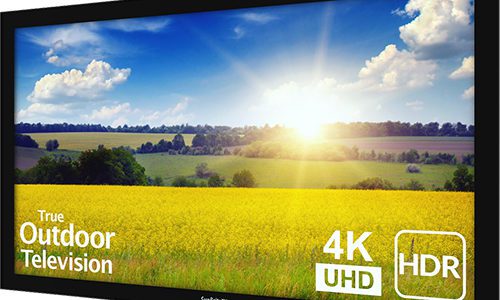 The SnapAV brand SunBriteTV has announced its Pro 2 Series of outdoor televisions.
SunBriteTV says that its newest product line provides users with 4K and high dynamic range (HDR) image capabilities. The Pro 2 Series also provides users with a choice of commercial-grade models of 49-, 55- and 65-inch screen sizes that are able to reside in full sunlight and high-traffic locations.
Some of the other features the Pro 2 Series of display offer include HDBaseT and IP connectivity options, and SnapAV's OvrC remote monitoring platform.
Supporting, the Pro 2 Series ability to install into a range of locations, SunBriteTV states the 4K TVs produce up to 1,000 nits of brightness, and they utilize the company's TruVision anti-glare technology. The products' Optiview Day and Night modes are also designed to provide the best picture quality no matter what time of day someone is viewing the TVs.
SunBriteTV notes the TVs also incorporate powder-coated, rust-proof aluminum exteriors, along with weather-tight cable entry systems that resist environmental conditions.
In addition, the TVs are able to operate in a range of climate temperatures spanning -24 degrees to 122 degrees Fahrenheit.
More news from SunBriteTV: Texas-Size Backyard Project Dazzles with AV Options
Product Info:
Product Name:
Pro 2 Series
Manufacturer:
SunBriteTV