Parasound
ZoneMaster Custom Installation Amplifiers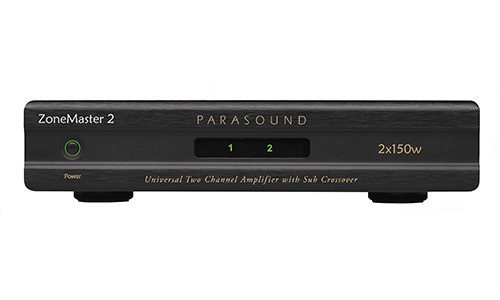 Showing its support of the custom installation industry, Parasound has bolstered its selection of ZoneMaster custom install amplifiers.
Parasound says its new ZoneMaster ZM 2 and ZM 4 offer a lot of power to integrators in small packages. The amps are rated to produce 150 watts into 4-ohm and 2-ohm loads, and 120-watts into an 8-ohm load.
The company explains the ZM 4's two output zones can both operate from a common source bus or they can operate independently from two separate zones. Each channel also provides individual adjustments for line-level gain, and the amp's loop outputs can be used to daisy-channel amplifiers.
Parasound's ZoneMaster ZM 2 amp provides similar specifications to the ZM 4.
Offering some unique features, the ZM 2 differentiates itself through its 80Hz low-pass filter for subwoofers. According to Parasound, this filter can be used with the line-level output for use with powered subwoofers. The low-pass filter option can also be used with the main amplifier outputs for use with passive subwoofers.
Both ZoneMaster amps incorporate 12-volt triggers, audio detection and front-panel buttons.
Additionally, the amps, which come in a black finish can rack mount to keep the products out of sight from homeowners.
More news from Parasound: $1,199 Parasound New Classic 200 Integrated Amp Delivers 110 Watts
Product Info:
Product Name:
ZoneMaster Amplifiers
Manufacturer:
Parasound