Providing integrators with a versatile stereo and home theater solution for reasonable money, the $1,199 Parasound New Classic 200 Integrated Amplifier serves as the foundation for digital and analog audio listening.
Parasound's latest amplification product incorporates a Class D amplification section that is rated to produce 110-watts per channel into 8- and 4-ohm loads, and home theater bypass options to enable its integration into surround sound systems.
Designed as a value-minded, versatile integrated amplifier, the New Classic 200 Integrated Amplifier bundles a host of features into a 1U-high chassis.
"The New Classic 200 has been extremely popular for us because there is so much value offered at the very modest price point of $1,199 URMP [unilateral minimum retail price] here in the United States—$1,200 for the consumer," states Joe Finn, Eastern regional, marketing manager, Parasound.
"It's a powerful integrated amplifier in that it has a very strong 110 watt per channel amplifier into either 8 or 4 ohms all in this compact, 1U-high shape, which is great. But, its got an extremely flexible preamp section as well.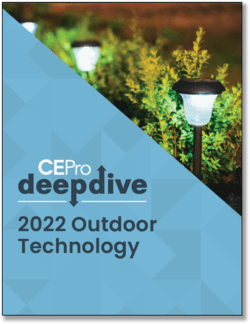 The 2023 CE Pro Outdoor Technology Deep Dive reveals unique set of impediments, including explaining pricing and interacting with outdoor-centric trades.
Get your copy now to take a "deep dive" into the trends and challenges of outdoor technology.
Download the report now!
"This is the exact equivalent preamplifier as our New Classic 200 Preamplifier, so it has three different [digital] inputs, plenty of analog inputs; it has a wonderful sounding headphone amp in it; is got a wonderful sounding DAC [digital to analog converter] in it, so it is both an integrated amplifier and DAC. Its got an excellent sounding phono stage in it, and like I said, with 110-watts per channel, it has plenty of power for most speakers you would ever want to hook up to it, all at the very modest price of $1,199," says Finn.
Parasound New Classic 200 Integrated Amp Supports Turntables
Elaborating on the integrated amp's options, Parasound says the unit features 24-bit/192kHz DAC technologies from its Halo P 5 product to enable digital sources to sound as good as possible.
The New Classic 200 Integrated Amplifier also includes inputs for moving magnet (MM) and moving coil (MC) phono cartridges, and a full-range mono output that can be setup for subwoofers.
In addition, the integrated amplifier provides these features:
Favorite volume memory
Input level matching
Front panel dimming options
Two-way RS-232 with volume control and feedback
Parasound offers Control4 drivers for system integration
Front panel Auxiliary input with 12dB of gain for use with smart devices
12-volt trigger output and rear-panel IR input
Variable and fixed stereo preamp outputs