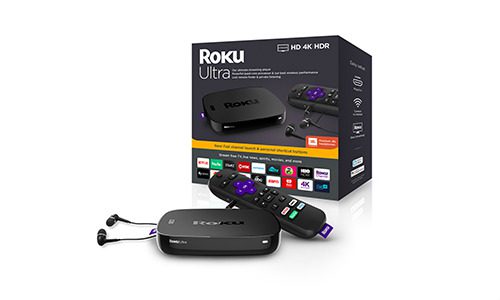 Just in time for fall and winter TV watching, the latest Roku streamers and OS have been announced.
Roku, one of the most popular streaming companies in the AV market, has introduced a new version of its Express ($30) and Ultra ($100) streamers.
The company's latest streamers incorporate fast channel launch, remote controls with personal shortcut buttons, and the company's newest operating system (OS).
"We've driven by the goal of delivering an exceptional streaming experience to our customers that includes endless entertainment and intuitive ways to find it," says Mark Ely, vice president, players and whole home product manager, Roku.
"Our new streaming player lineup continues to offer a device for every type of streamer. Whether you're streaming to your TV for the first time or are a cord-cutting powerhouse who wants our ultimate streaming device; we've got you covered."
Roku Streamers and OS Incorporate a Wealth of Features
The new Roku Express is 10% smaller than the previous product version.
Roku says the Express is designed to blend into home AV environments and if an outlet is not available the company adds that a TV's USB port can power the unit.
The Ultra supports HD, 4K and HDR content through its inclusion of quad-core processors and dual-band 802.11ac wireless technologies.
Roku also points out the Ultra supports Dolby and DTS Digital Surround Sound, and it comes with JBL headphones for private listening.
In addition to the new streaming products, Roku has also announced OS 9.2
Roku emphasizes that its new OS was developed to help users find the content they want as quickly as possible. Some of the ways the 9.2 OS does this is features such as its 4K Spotlight that groups 4K content in an easy-to-find location.
Other features include the "Roku Tips & Tricks" provides videos that users can stream to learn how to get the most out of their Roku products.
Moreover, Roku Zones allows users to search for a genre or topical subject for a curated selection of content across the Roku platform. Examples include "Drama Movies & TV Zone" or "Superhero Movies Zone," which are continually updated with new content.
Roku's new OS will launch sometime over the next several weeks according to the company.
"The Roku OS allows consumers to easily get to the content they want to watch so they can sit back and relax," notes said Ilya Asnis, senior vice president of Roku OS at Roku.
"With Roku OS 9.2, we are giving our customers new content-rich experiences around 4K, voice and home screen controls."
Product Info:
Product Name:
Roku Ultra and Roku Express
Manufacturer:
Roku