Monitor Audio
Bronze Series Loudspeakers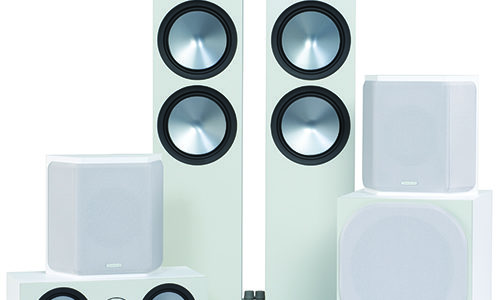 The newly announced Bronze series of loudspeakers from Monitor Audio is a completely new product design according to the company's U.S. importer Kevro.
Kevro and Monitor Audio USA point out the Bronze series of speakers includes a choice of eight models with solutions such as a Dolby Atmos enabled module.
Some of the new design elements built into the products are features such as Monitor's Uniform Dispersion (UD) waveguide that is combined with the company's C-CAM Gold-Dome Tweeter.
The speakers also incorporate the company's rear-port HiVe II technology to help the products maximize their frequency extension without port noise.
Monitor Audio also notes the Bronze series of speakers incorporates the company's latest industrial designs, and the speakers are available in a choice of four finishes: black, white, walnut and urban gray.
MRSPs are as follows:
Bronze 500 $1,295 per pair
Bronze 200 $995 per pair
Bronze 100 $595 per pair
Bronze 50 $475 per pair
Bronze C150 $325 each
Bronze FX $550 per pair
Bronze W10 $795 each
Bronze Atmos: $550
More news from Monitor Audio: Monitor Audio Introduces Second-Generation MASS Surround-Sound System
Product Info:
Product Name:
Bronze Series of Loudspeakers
Manufacturer:
Monitor Audio
MSRP:
MSRPs range from $550 per pair to $1,295 per pair