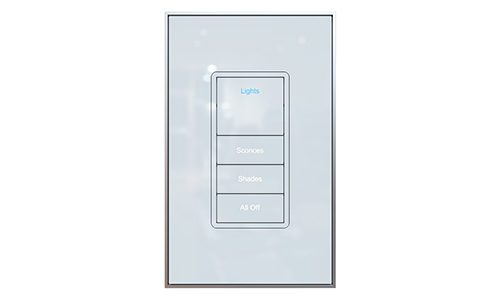 The Legrand Building Control Systems (BCS) division's Vantage Control Systems brand has announced its new EasyTouch modular keypad station.
Vantage points out the EasyTouch modular keypad station is now available, and it offers homeowners the functionality they need to perform a range of control tasks.
Helping integrators blend the keypad into a variety of home environments, Vantage also points out the control interface features a highly reflective, mirrored look, along with a smooth-touch tactile surface. Vantage states it can also match the color of the keypad to further support integrators' ability to blend the unit into any number of interior designs.
Some of the EasyTouch modular keypad's other features include as many as five programmable buttons that can be setup for scenes such as "welcome," "away" and "party."
Vantage adds that some of the ways that integrators can personalize the keypad beyond its finish and programming include laser-engraved buttons in a TrueType font, with adjustable RGB backlighting in a choice of colors.
In addition, Vantage emphasizes that unlike other interface solutions, its latest keypad combines load and scene functionality to reduce the number of keypads on the wall to result in a cleaner aesthetic within the home.
More news from Vantage: How Vantage Does Human-Centric Lighting: Sun as a 'Phantom Load'
Product Info:
Product Name:
EasyTouch Glass Keypad
Manufacturer:
Vantage Controls