Konftel
Cam10 Desktop Webcam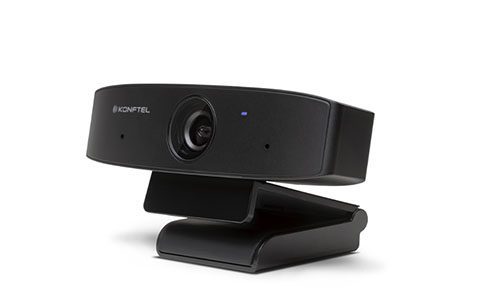 Konftel, a Swedish electronics company that's been around since 1988 has just announced its Cam10 Webcam.
The new desktop webcam is designed to combine the functionality business users need in today's work environment and an industrial design that complements its surroundings.
Konftel explains the Cam10 provides a 90-degree field-of-view, along with a 1080p resolution at 30fps, a pair of microphones and 4x digital zoom.
The Cam10 can be used in the office or as a tool for WFH situations.
According to the company, the webcam offers simple, plug-and-play USB connectivity to provide users with a simple setup procedure. Konftel points out the Cam10 also provides video noise reduction technologies, as well as low-light capabilities, and autofocus to help the unit produce quality images.
The webcam can be placed in positions that include on top of users' main computer screens to enable eye contact. The product incorporates a standard damping bracket that's designed for stability, and there are also tripod mounting options available for the webcam.
Konftel also notes the unit's two microphones incorporate noise suppression technologies, and it can be paired with the company's Ego speakerphone that includes its OmniSound audio technology.
Additionally, Konftel is certified in line with the Climate Neutral standard, which means when users choose the company's products there is an immediate climate benefit because they chose a distance meeting instead of a business trip.
More news from CE Pro: CE Pro Podcast #43: AV Yoga Club Empowers Industry Bonding
Product Info:
Product Name:
Cam10 Webcam
Manufacturer:
Konftel
MSRP:
$129