Honeywell
ThermoRebellion Imaging Camera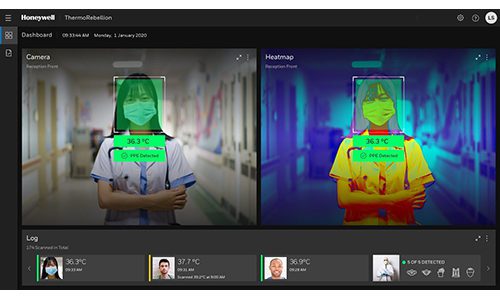 The global electronics company Honeywell has introduced its new ThermoRebellion Imaging Camera to help keep people safe in the workplace.
Honeywell states that its latest camera solution incorporates advanced, infrared imaging technologies and artificial intelligence (AI) algorithms to enable the ThermoRebellion to conduct non-invasive screens of people.
According to the company, the temperature monitoring camera can be setup and deployed at entryways of factories, airports, distribution centers, stadiums, and other commercial buildings. The unit works by letting individuals pass in front of a high-resolution, thermal-imaging camera that automatically detects a person's skin temperature. The camera then displays that temperature within two seconds on an accompanying monitor.
Honeywell emphasizes these temperature readings can be used to alert someone to seek out additional medical screenings, and it provides property owners information related to the personnel entering their buildings.
In addition, the ThermoRebellion Imaging Camera also identifies personnel that are wearing the necessary personal protective equipment that is required for work within a specific jobsite.
Moreover, the camera includes software that enables the AI to identify individual pixel capture assessment for elevated temperatures.
More news from Honeywell: Savant Now Compatible With Resideo Honeywell Home T Series Smart Thermostats
Product Info:
Product Name:
ThermoRebellion Imaging Camera
Manufacturer:
Honeywell