Brilliant
Garage Door Integration Powered by Aladdin Connect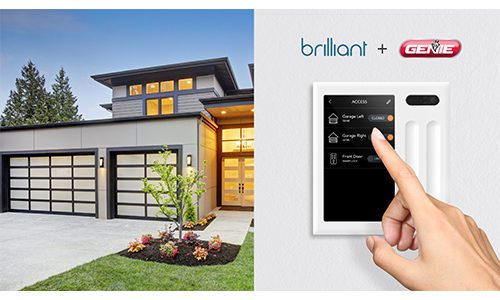 Brilliant, a smart-home control and lighting company, has partnered with the smart-home garage door company Genie, to integrate garage doors into smart homes using Aladdin Connect.
According to the San Mateo, Calif.-based company Brilliant, through this partnership homeowners will now be able to control their garage doors through the use of its in-wall touchscreens.
Using a Brilliant system the company states that homeowners, renters and visitors can control a home's lighting, locks, security cameras, music, thermostats from the touchscreen or by voice control.
Powered by Genie's Aladdin Connect, which is a smart-enabled garage door controller, the integration of Genie's technologies into the Brilliant platform offers users a high level of convenience.
More news from Brilliant: TechTalk: Brilliant Discusses How Integrators and Builders Can Work Together
Product Info:
Product Name:
Aladdin Connect
Manufacturer:
Brilliant