CE Pro Podcast #81: SurgeX Powers Up Installs for Better Protection, Remote Monitoring & More
Jimmy Paschke & Vince Luciani of SurgeX discuss how to optimize power systems, implement UPS backup, remotely diagnose and troubleshoot; Squid & other products highlighted too.
Listen to this podcast using the embedded player below.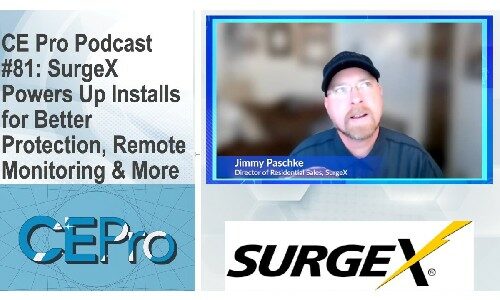 We're making a power play on this week's CE Pro Podcast, focusing on how custom integrators can optimize power protection, power management, battery backup, remote diagnostics, troubleshooting and more.
To help us do that, I chatted with SurgeX director of residential sales Jimmy Paschke and senior sales engineer Vince Luciani, to parse how one of the category's longtime leaders develops foundational power systems, works with its integrators on highlighting ROI and product education for customers and much more in this week's CE Pro Podcast episode.
They also walk through important product releases such as the Squid, which can also assist commercial/resimercial clients, and the BEST Product Awards-winning UPS + Isolation Transformer.
Power solutions are wide-ranging these days, and SurgeX tries to take a surgical approach to ensuring its dealers' customers are properly served on all power fronts.
"I think the approach we take is slightly different than other manufacturers. It's not what's available, but what are we trying to solve for," Paschke says.
As an example, he cites a dealer who explains that solving potential power-related problems involves swapping out different boxes a number of times, "then we might start digging into, hmm, I wonder if we have a networking problem, a power problem, a temperature issue, installation or programming-related issue. So I think when it comes to a job it should be more about what do we have to solve for? Do we have any power quality issues? If no, then maybe we just need some outlets – and some outlets that are IP-addressable."
SurgeX Tries to Reduce Dealers' Service Burden
Paschke notes that SurgeX gets data logs from customers and with so much to analyze over the years estimates about 85% of issues comes from unstable power, whether in a residential or commercial environment.
"IP-addressable products have been the rage since 2010 when BlueBolt came out, 2012 when WattBox came out – those two things have really driven, the two sides commercial and resi to be very effective and efficient at rebooting devices.
"Vince and I have tried to drive the two sides to stop overreacting – mitigate for and control the power situation at your jobsite. And really the biggest way we've been able to get that reality across is by promoting double-conversion online UPSs, whether they're small or big."
Underscored by Luciani, his simplest take on why integrators should sell power products like backup batteries and remote-accessible components comes down to the customer experience.
"The reason why we're doing this for the end customer is to have a better experience with whatever equipment our dealers are putting in there. If you're equipment's not available, whether it's a home theater, a security or an IT system – that's not good."
At the same time, the twofold mission, Luciani adds, is that SurgeX and others are trying to "reduce the service burden for the dealer" that installed the gear.
"If you put in $150,000 worth of equipment, which is not unheard of in our industry, you're on the hook for that – they're not going to call the power company and say, 'My system's out,' they're going to call the dealer. So we can keep [power] up and running and it's a benefit to the customer and to their brand."
Listen to or watch the CE Pro Podcast above to hear more from Paschke and Luciani about how integrators can maximize system design, how to use products like the Squid and UPS + Isolation Transformer, how to analyze data and show ROI for clients, and more. Find past episodes of the CE Pro Podcast by subscribing to the CE Pro YouTube channel or our Apple and Spotify podcast feeds.