One of the most misunderstood categories within the custom installation market is power. Power conditioning and power protection products have been around for many years, but the science and legitimacy surrounding these products have always led to a lot of questions.
The one thing with power that is universally agreed upon however, regardless of the method used to "improve and protect" is that usually the power coming into the home varies in quality and consistency.
Helping integrators in the residential and commercial markets to diagnose specific power issues is SurgeX and its enVision line of products.
The enVision line of products were developed to serve as diagnostic tools, which when employed also provide surge protection and power conditioning.
Available in a number of versions to address a range of residential and commercial environments, integrators can use the enVision products to find the cause of their clients' power issues and subsequently provide remedies to solve the issues the products have discovered.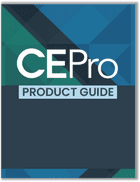 CE Pro's 2022 Product Guide showcases some of the latest and innovative solutions from manufacturers serving the custom electronics industry in a cross-section of categories.
Download the guide now!
Surgex enVision Features and Setup
The enVision line offers several products. Sending me the EV12015 IC for my home's standard 15 amp/120-volt power, the product measures line and neutral to ground voltage, crest factor, power factor and line frequency metrics.
SurgeX says the products time stamp as many as 512 events with specific dates and times, and they provide historical minimum, maximum and average data up to 138 days. The products also incorporate internal batteries to record data during power failures, and SurgeX supports the products with a companion remote portal to enable integrators to access system information from remote locations.
For residential applications, SurgeX says that in most cases all integrators will need is a single enVision unit per home.
Setting up the enVision unit couldn't have been any easier—using the EV12015 IC model with my guitar amps—a Marshall Silver Jubilee reissue and a Fender 1965 Deluxe Reverb reissue, all I needed to do was plug the Envision unit into the wall and the amps into the EV12015 IC.
Take a look at the definitions at the end of the article to help clarify any unfamiliar terms.
I chose to put the enVision on my guitar amps because they are tube products. The Marshall uses EL-34s and the Fender uses 6V6s, and because they use those tubes to develop power, voltage fluctuations and power anomalies can really affect the sound quality of these products.
Additionally, I'll also note that I live north of Boston in a small city of approximately 61,000 just to provide some perspective.
As I stated earlier, the enVision product line is designed to provide diagnostic information, while also provide surge and power conditioning benefits.
---
Features
The enVision can diagnose power issues in homes and businesses with reports that include detailed measurements with time stamps.
SurgeX points out that its enVision line of products incorporates multi-stage power protection and power conditioning.
Internally, the enVision products incorporate a battery that will continue to record data in the event of a power failure.
The enVision line of products offers a choice of 30-amp, 120 to 208-volt and 240-volt models.
SurgeX's companion Remote Portal is a tool dealers can use to review clients' power issues without rolling a truck to make a site visit.
---
As a Mac user I could not use SurgeX's PC software tool that supports the enVision line of products. SurgeX says what Mac users can do—if they decide they want to use its software—is run Boot Camp to gain access to PC software features, provided they have an unused Windows license.
SurgeX also points out that dealers can manage and view their clients' data through its SurgeX Remote Portal.
Performance and Final Thoughts
Choosing to simply send the unit back to SurgeX afterward to let the company analyze the data, I ran the enVision unit for two separate periods that added up to several months of usage.
Once the enVision unit was returned to the company, Vince Luciani, senior sales engineer, SurgeX, followed up with me to provide the results from the enVision unit.
Explaining the results, Luciani says that for a majority of the time my home's power was good, but at times it could be bad … or even really bad.
"When your power is good, its good. But when it is not good, it varies from marginally bad to really bad. This is consistent because power is generated just milliseconds before it is used," he says. "Just because it was good a second ago, it does not mean that it is good quality now or it will be good in the future."
Getting specific, Luciani says that over the two periods of time the unit was plugged in it recorded 140 days worth of data.
"During the 125-day test, 80% of the time, your power varied less than 5 volts in any given 30-minute window. So, 80% of the time, you are doing great. However, the other 20% of the time you had issues. 112 times, your voltage dropped to at or below 108 volts," he comments.
"The reason why I chose 108 volts is because the ANSI standard for residential voltage is between 110 to 124 volts. It is not like falling off a cliff when you get to 109 volts, but it does get progressively worse the lower the voltage goes below 110 volts. Low voltage can cause microprocessor-based equipment to lock up; it will cause power amps to draw more current and heat up, and it can certainly change the sound quality of a guitar tube amp."
Wrapping up his analysis of the data collected over 140 days, the power delivery typically dropped in voltage.
"Your voltage tended to fluctuate down a little more than up. While ANSI sets a target for 124 volts on the high side, we don't really get too concerned until you get sustained over voltages in the high 130s and higher. Ninety times your voltage peaked up to either 127 volts or 128 volts, which, as I indicated, is not too concerning. This is consistent with living in a highly populated area where under voltages are due to the overuse of the power grid and are more prevalent and severe than over voltages," says Luciani.
"The enVision data did show that you had severe under voltages of less than 100 volts on May 5, May 17 [2019]; Sept. 2, Oct. 23 and Nov. 29 [2018]. You had power outages on May 2 [2019], Oct.4, and Nov. 7, 2018. If you were an irate customer and I was your dealer, I would check the data on the permanently installed enVision to see if there were any power issues during the time there was a service complaint.
"EnVision data allows me to either rule-in or rule-out power as the root cause from the start. If disturbances were recorded, I would be able to attribute the root cause of these system issues to power and not the equipment. Then, I could use the enVision data to prove the existence of electrical issues either to the electrician or power company and help resolve the problem," says Luciani.
Seeing the data quantified issues that I suspect have affected some components in my house such as a Dish Hopper 3 and Autonomic servers really have me thinking about ways to protect my network, which is a priority in my household.
Providing a protection solution to solve my power issues, Luciani recommends a SurgeX UPS solution.
"Since you are an audio/video aficionado, I would definitely recommend the use of a Double Conversion/OnLine UPS system to tightly regulate the voltage going to your AV system. I am sure your tube amps sound much different at 105 volts than they do at 120 volts because of the difference in bias voltages," Luciani advises.
"In order to use a UPS with an amplifier, you definitely have to be careful in sizing. You need to oversize a good bit to allow for impulse current draw. What is great about the SurgeX UPS's is that they have high-impulse current delivery."
Based on my experience, having the data in hand really drives home the point that power protection, regulation and conditioning are important components to ensure the reliable, long-term performance of networks, AV gear, control systems and more.
The enVision line of products are a great way for integrators to legitimately sell the benefits of the SurgeX product line without having to pitch the snake oil that so many power companies offer.
---
CE Pro Verdict
Pros:
The enVision products are literally plug-and-play
The product's inclusion of surge and conditioning technologies provide added value
In a home environment, the enVision product is small enough to incorporate into a rack or furniture without being noticed.
Cons:
As a Mac user the enVision's PC-only software limited my ability to perform some of the diagnostic options.
I would like to see the cable on the enVision unit to offer a longer length.
MSRP for the EV-12015 IC is $429
---
SurgeX Definitions
Power Factor: SurgeX defines power as the rate at which electrical energy is converted to another form. These forms can include heat, mechanical energy or energy stored in electric and magnetic fields. Power factor is a number between 0 and 1 and it is an indication of how efficiently the AC electrical supply is used. It is not meant to represent the efficient use of energy.
Crest Factor: This is a mathematical relationship used by electrical engineers to analyze waveforms. Sometimes crest factor can be used to characterize the quality of a waveform, and in other cases it is used to demonstrate a waveform with many peaks.
Voltage Crest Factor: Surgex states that voltage waveforms often start out fine, but they are often not perfect by the time they get to the point of use. A common issue is called "flat topping," and this is a situation that occurs when the resistance of the wire in the branch circuit is too high due to the length and thickness of the wire. Crest factor measurements detect the potential for wiring and loading issues that are not identified by simple voltage measurements.
Current Crest Factor: According to SurgeX, the voltage waveform in power distribution is generated by a sine wave, the current draw by an electrical load could be sinusoidal. Purely resistive loads will pull current in a sinusoidal pattern, but everything else, such as switch-mode power supplies will pull current in non-sinusoidal patterns. Current crest factor measurements can be used in ways that include electronic loads with current crest factors above three indicate the load is probably not power factor connected and pulls in current peaks. Current crest factor can also be used to evaluate UPS units, and SurgeX adds that products with high current crest factors could account for unintended circuit breaker trips.