CE Pro Podcast #69: How Z-Wave Alliance Is Expanding Smart Home Possibilities
Mitch Klein of Z-Wave Alliance and Silicon Labs joins the CE Pro Podcast to chat about the interoperability of the protocol and latest home and resimercial uses for integrators.
Listen to this podcast using the embedded player below.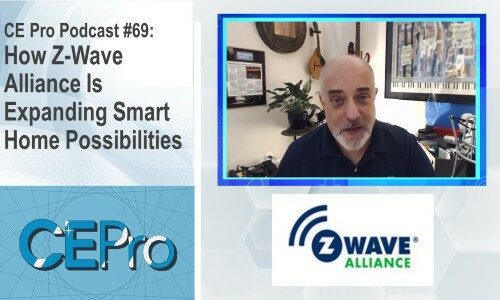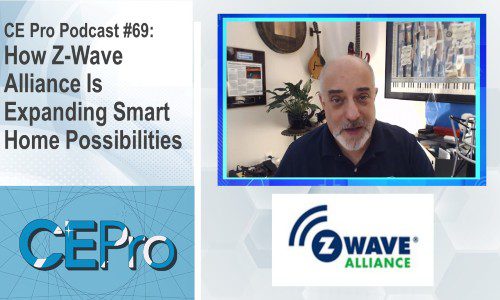 As custom integrators know, there are many ways to build a smart home these days, but one of the keys to that overall intelligence is always going to be interoperability between subsystems.
With that in mind, deploying products that play nicely together has never been easier, ore more expansive, for creating such cohesive whole-home control systems. As the CEDIA Expo 2021 in Indianapolis is around the corner, CE Pro chatted with Z-Wave Alliance executive director Mitch Klein in this week's CE Pro Podcast about what integrators can expect to see in the ever-expanding Z-Wave Pavilion, as that protocol continues to create greater possibilities for smart homes.
This year has been busy for the Z-Wave Alliance as exciting technology Z-Wave Long Range (Z-Wave LR) begins to make its way into products and facilitate more potential markets like resimercial hospitality and MDU; as companies such as Vivint have joined the group; and as Silicon Labs – owners of Z-Wave – recently announced divesting its infrastructure and automotive divisions to concentrate on IoT connectivity.
That's all good news for smart home integrators and their customers, as well as developers of Z-Wave products.
"It's been a phenomenal year for Z-Wave. It's definitely been our best year ever," enthuses Klein, who is also director of strategic partnerships for Silicon Labs. "We sold off all the businesses that are peripheral to IoT and now we are a pure IoT play."
And what does that mean for integrators and the industry, Klein asks?
"That means now that we are simply manufacturing chips for IoT for things that you all know – Wi-Fi, Bluetooth, ZigBee, of course Z-Wave, proprietary and on the commercial side things like WiSA and other. But everything we do now has to do with driving the IoT, and of course my focus has been on the home side."
Klein, a recent CEDIA Lifetime Achievement Award recipient, adds that he has been busy spinning Z-Wave Alliance off into an independent organization.
"It means really good things for all Z-Wave customers and manufacturers," he says. "Other companies can participate in developing the software, identifying new priorities and new opportunities."
Z-Wave LDR Products, CEDIA Expo Smart Home Panel on Tap
Toward that end, Klein is excited that products are about to come out for Z-Wave LR, which was officially announced last December.
"At this point we've tested it to a mile – which means you could have a mailbox down the street and still be able to get messaging back when the mail is received; to get [signal] out to the poolhouse; to get out to fence posts … so Z-Wave Long Range is a really, really big deal."
Integrators can see what else is happening with Z-Wave-compatible products at the CEDIA Expo Z-Wave Pavilion.
They can also learn more about the ecosystem and today's smart home at Z-Wave's Platform Playground: Shaping the Future of the Smart Home & Where Protocols Face Opportunities & Challenges –panel, moderated by CE Pro founding editor Julie Jacobson and being held at the Indiana Convention Center room number 137 at CEDIA Expo 2021 on Tuesday, August 31, 2021, from 3:00 PM – 4:30 PM ET.
Hear much more from Klein about the Z-Wave Pavilion, the smart home panel and other happenings by listening or watching the podcast above. Find past episodes of the CE Pro Podcast by subscribing to the CE Pro YouTube channel or our Apple and Spotify podcast feeds.