CE Pro Podcast #59: What's on the Product Roadmap Next for SnapAV?
SnapAV executives GPaul Hess, Kenny Kim and Mike Jordan discuss keys to CE Pro Brand Analysis success and upcoming initiatives in myriad tech categories.
Listen to this podcast using the embedded player below, or use the link to download (right-click to save) or to listen using your system's media player. On mobile devices simply click the Download this Audio File link below and your devices player will automatically play the file.
Listen to this podcast right now.
Format: mp3 • Length: 23:57 • Filesize: 45971356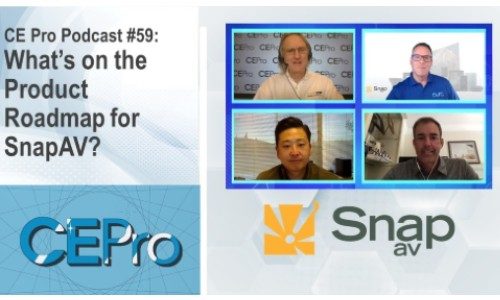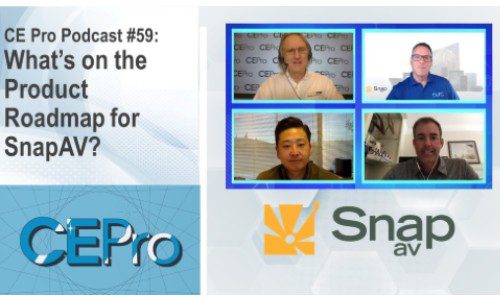 The annual CE Pro 100 Brand Analysis is out now online and in our June issue, CE Pro's research that details the most-used brands by the top integrators in the industry. With the CE Pro 100 representing a mixture of integrator business models, it's a good reflection of supplier preferences within the industry as a whole, too.
Not surprisingly, one company's name stands out in the Brand Analysis, and that's SnapAV. CE Pro tracks nearly 70 technology, enhancements, tools, software and other categories pertinent to integrators' businesses and highlights the top five brands in each category based on the CE Pro 100 data.
Charlotte, N.C.-based SnapAV, which has grown immensely in its 15+ years as a manufacturer/distributor and will soon be going public, has brand representation in virtually every category – and the dealer base to be at or near the top in many of them. SnapAV-branded products led a whopping 20 categories.
What are the keys to success? And what's coming down the pike in terms of solutions? A trio of SnapAV executives – GPaul Hess, chief product officer; Kenny Kim, VP of product management and platform services; and Mike Jordan, senior VP of control and entertainment – joined CE Pro editor Jason Knott on this week's CE Pro Podcast to discuss the company's brand leadership position and outline initiatives in networking, control, multiroom AV, video surveillance and remote systems management.
SnapAV's Channel Commitment Continues to Expand
Recently, the company illustrated its commitment to the integration channel by announcing it was going to acquire Access Networks, and also invest in remote systems monitoring provider Parasol. Access Networks' enterprise-grade home networking solutions will complement SnapAV's current line to offer dealers more options, and Parasol already employs the company's ubiquitous OvrC platform for its 24/7 services.
Those brands all fared well in this year's CE Pro Brand Analysis. Other SnapAV dominance showed in respective specialties of brands such as Araknis, Binary, Control4, Dragonfly, Episode, Luma, Pakedge, Strong, SunBriteTV, Triad, Wattbox and Wirepath. Plus, its ever-growing Pro Stores pace the general distribution category.
Not to mention that on the customer service side, SnapAV earned accolades in a remarkable 14 categories of dealer support when CE Pro surveyed 14,000+ integrators in our April 2021 issue's Quest for Quality Awards coverage.
"We started this journey about seven years ago, and we started it based on partner feedback that they were struggling servicing clients and how that was eating into their profit margins," says Kim, who oversees all things OvrC. "We started OvrC really to address that pain point and it hasn't changed since.
"Our mission to help our partners become successful, be efficient in their operations, of serving their customers is still the same mission that we have today, and our roadmap and our investments are driven by the feedback that we get directly from our partners. I think that's part of our success … just creating a product that our partners are asking for."
Hear the rest of Knott's conversation with SnapAV's Kim, Hess and Jordan by watching or listening to the CE Pro Podcast above. Find past episodes of the CE Pro Podcast by subscribing to the CE Pro YouTube channel or our Apple and Spotify podcast feeds.