CE Pro Podcast #55: Nortek Control Expands Elan Capabilities, SpeakerCraft Subs
Nortek Control's Jeff Shaw joins the CE Pro Podcast to cover the latest Elan, SpeakerCraft, BlueBOLT product news and more.
Listen to this podcast using the embedded player below.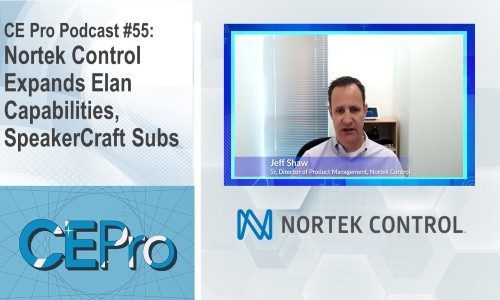 It's been a busy 2021 for Nortek Control, which was coming off quite a 2020. The company rebranded last September from Nortek Security & Control as well as outlined its solutions roadmap for this year, in which it planned to expend much energy focusing on the likes of SpeakerCraft and Elan brands in particular.
That's already come to fruition this year, as Nortek Control has introduced new Elan system controllers, updated automation software and expanded integrations. The SpeakerCraft brand was given a booming boost with a new subwoofer lineup and more on the way in 2021.
Who better to parse through all of the Nortek Control product news than Jeff Shaw, the company's senior director of product management? He joined me on the latest CE Pro Podcast episode to go over the aforementioned Elan and SpeakerCraft releases plus insights on the company's recently updated Elan Management Cloud and BluBOLT remote systems management platform.
Nortek Control Makes System Design Flexibility a Priority
"Really the goal we had in mind with these new controllers was to give dealers a lot of flexibility in the size of the installation that they need," Shaw says. "So rather than have a small, medium and large controller as we've had before and what's typical in the control business, we wanted to give integrators the possibility to take a small controller, add software, give it a little bit more power, then you can add extenders to control more devices – and then you can jump it up to the biggest controller.
"But anywhere in between, you can fit those control systems that fall between the cracks of small, medium and large – to really give the dealer flexibility to not have to install a system that's too big for the needs of the installation or something that might be too small," he adds.
It also enables integrators to easily expand systems if needed when homeowners wish to add on subsystems or devices. Based on all the new integrations Elan now supports, today's Nortek Control dealers have a bevvy of options and manufacturers to offer.
Shaw notes that also among the reasons for updating the control software was to put more power into the hands of the homeowners so they can personalize systems without having to involve the integrator every time.
Meanwhile, on the SpeakerCraft side, Shaw was excited to detail the new quartet of SDSi subwoofers. The products leverage Nortek Control's Sunfire subwoofer legacy, and come in 8-, 10-, 12- and 15-inch woofer sizes, another way to offer dealers installation flexibility.
Watch or listen to the entire conversation with Nortek Control's Jeff Shaw above. Find past episodes of the CE Pro Podcast by subscribing to the CE Pro YouTube channel or our Apple and Spotify podcast feeds.